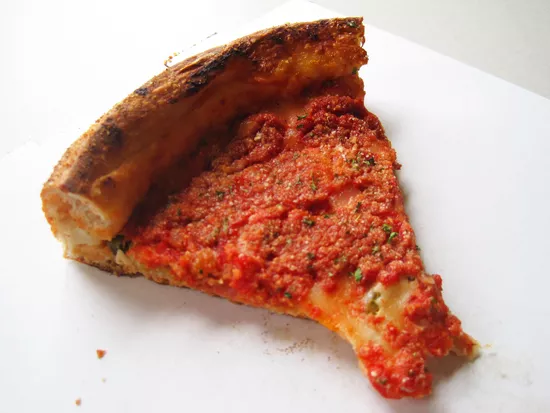 Ian Froeb
A slice of the deep-dish pizza at Feraro's
The Place
:
Feraro's Jersey-Style Pizza
, the Soulard
(1862 South 10th Street; 314-588-8345)
and south county
(11726 Baptist Church Road, South St. Louis County; 314-843-3456)
purveyor of New Jersey-style pizza.
The Lunch
: A "personal"-sized deep-dish pizza ($7.50, with toppings an additional $1 each).
What's that? You didn't know that Feraro's -- home of New Jersey-style pizza, as thin as New York-style, but with a sweeter, more oregano-intensive sauce -- makes deep-dish pizza.
It's true. I tried it for the first time recently at Feraro's original Soulard location.
The Verdict
: The menu labels this as a "personal" pizza, but with a diameter of ten inches and a crust more than an inch tall, this is a formidable pie for even the hungriest diner.
The crust is thick around the perimeter, but not overwhelmingly so, and it's downright thin across the bottom. So while this is a weighty pizza, you don't feel as if you're eating a couple pounds of bread.
Crust aside, this pizza's elements will be familiar to fans of Feraro's standard pies. The sauce is sweet and spiked with oregano, and the cheese is applied with a generous hand -- even more so in this deep-dish rendition -- and melted to the perfect gooey consistency.
I don't prefer this to Feraro's traditional Jersey-style pizza, but it makes for a nice change of pace -- and, for those seeking a lunch deal, one deep-dish pizza is likely to make for a satisfying meal for two.
One caveat: It should go without saying, but the deep-dish pizza takes longer to bake than the thin-crust variety. If your lunch break is brief, better to stick with the regular thin crust, which is available as a whole pie, a personal pie or by the slice.