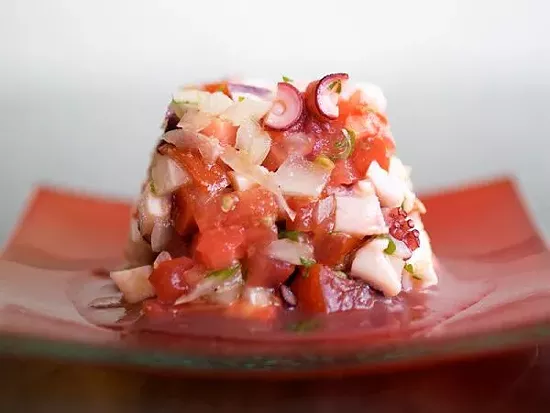 Jennifer Silverberg
The ensalda de pulpo (octopus salad) at Café Pintxos
This week, I visit
Café Pintxos
(3407 Olive Street; 314-338-2500)
, the restaurant inside the new
Hotel Ignacio
in midtown.
The Basque term pintxos is roughly synonymous with tapas, and if you think of Café Pintxos as a tapas bar, you might be able to make sense of the restaurant inside the new Hotel Ignacio in midtown. Not that it looks or feels anything like a Spanish tapas bar, but unlike so many restaurants that have appropriated the term "tapas," conflating it with "small," Café Pintxos does serve Spanish cuisine.

It might also help to think of Café Pintxos as a tapas bar, not a tapas restaurant. For one thing, it doesn't have its own kitchen; it shares one with the adjacent restaurant, Triumph Grill.

Visit
the RFT restaurant page
late this afternoon or check back here tomorrow morning to see what I think.