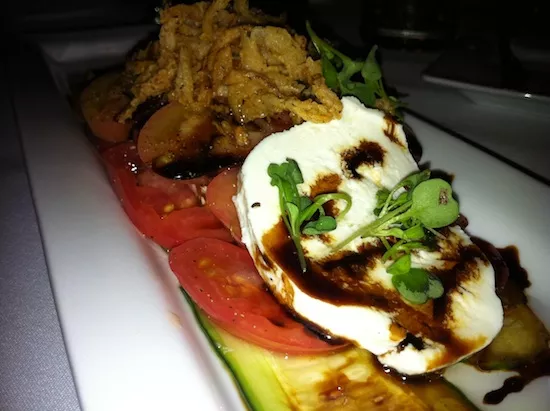 Bryan Peters
Eau Bistro's showing off some heirlooms.
This time of year, tomatoes are just starting to hit full stride. Hit up any farmers' market and you're sure to find a myriad of heirloom varieties, each promising unique flavor and texture. Savvy chefs know to pluck as many of these heirlooms as possible because, frankly, the tomato does most of the work. Still, a well-chosen accompanying ingredient is often what makes an heirloom tomato salad shine.
At Eau Bistro (212 North Kingshighway; 314-454-9000), Chef Brian Hale has created a visually stunning salad, but it's the balance of flavor he's struck that's so impressive. There's acidity in the heirlooms, savory in the local buffalo mozzarella and bitter in the greens. The balsamic reduction isn't heavy handed at all, and the salty, crunchy tobacco onions really punctuate the dish. The star of this show, though, is the heirloom tomato. The slices are large and plump, fruity without being too sweet. Next week Eau Bistro might take a crack at Cherokee or Green Zebra heirlooms, but all that really matters is that the tomatoes are in Chef Hale's capable hands. Just be sure you get over there before tomato season ends.