This is part three of Emily Wasserman's Chef's Choice profile of chef Peio Aramburu of Bistro 1130. Part one can be found here. Part two, a Q&A with Aramburu, is published here.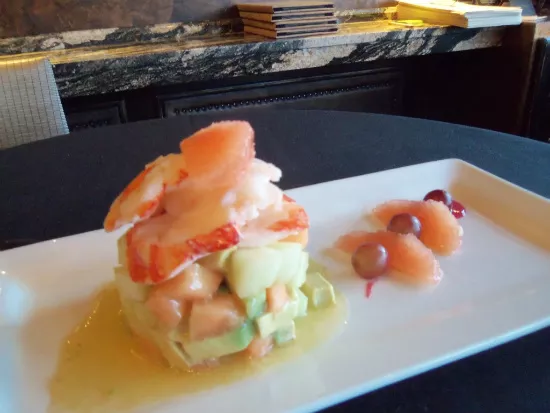 Chef Peio Aramburu is passionate about his fruits and vegetables. So it makes sense that one of his favorite appetizers on Bistro 1130's (1130 Town & Country Crossing Drive, Town & Country; 636-394-1130) menu at the moment includes plenty of ripe, in-season produce, cut and diced to perfection. Sweet, juicy morsels of honeydew, cantaloupe and avocado are stacked like Jenga pieces along with small fava beans and a tart grapefruit vinaigrette. Not forgetting his other love, fresh fish, Aramburu tops off the appetizer with blanched lobster, succulent and tasting as if it just jumped out of the Mediterranean. The combination of tropical fruits and seafood will please any palate on a warm summer night.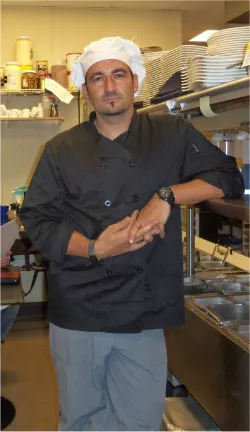 Buttermilk Poached Lobster Tail Salad.
Dressing 1 cup olive oil 1/2 cup grapefruit juice grated grapefruit to taste 1 tablespoon sesame oil 1 tablespoon mustard pinch salt and white pepper 4 tablespoons Japanese white vinegar
Salad one cup of diced ripe honeydew, cantaloupe, avocados and baby fava beans blanched lobster, ¼ inch sliced on the bias
Mix the fruits and vegetables with the salad dressing. Fill a small metal cooking ring with the salad. Remove ring, and place the lobster slice on top. Garnish with a drop of cranberry compote and small red grapes.
__________________________________________________________
Related Content
Peio Aramburu of Bistro 1130 Peio Aramburu of Bistro 1130, Part 2