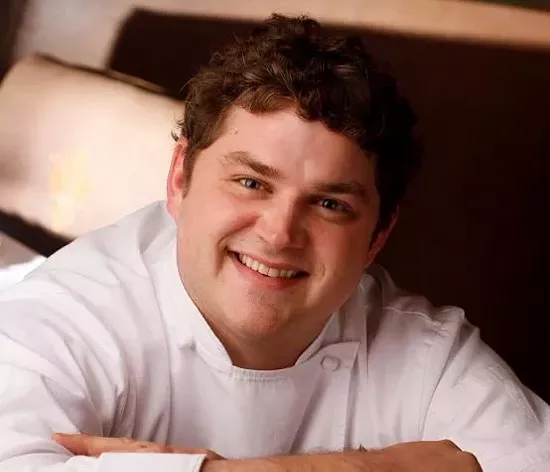 Courtesy: Harrah's Casino
Kelly English, owner of Restaurant Iris in Memphis, will open a steakhouse at Harrah's Casino.
Harrah's Casino
(777 Casino Center Drive, Maryland Heights; 314-770-8100)
announced last month that it will open
Kelly English Steakhouse
this fall in the location now occupied by the
Range Steakhouse
.
The eponymous
Kelly English
is the owner and chef of
Restaurant Iris
in Memphis, Tennessee.
Food & Wine named him as one of the magazine's "Best New Chefs" in 2009
, and the following year, he was a semifinalist in the "Best Chef: Southeast" category of the James Beard Foundation's annual awards.
English tells Gut Check that his arrival in St. Louis is a natural next step for a Louisiana-born chef who claims acclaimed New Orleans chef
John Besh
as a mentor: "I just follow the fleur-de-lis."
"I kind of got to see the spectrum of Creole and Cajun cooking," English says of his early years. He was born in Baton Rouge but spent the majority of his upbringing in New Orleans.
While the popular conception of the two cuisines sees Creole as more sophisticated, Cajun as more rustic, English has found that "It kind of blurs along the way." What unites them, he says, is the idea of "using what's at your fingertips, what the land gives you."
That -- and a passion for food: "If you grow up in Louisiana and can't make a roux, you're not a real man."
English attended Ole Miss and the Culinary Institute of America in Hyde Park, New York. His working relationship with Besh led him to run N'awlins, Besh's restaurant at the Harrah's Horseshoe Casino in Tunica, Mississippi. From there, English found his way to Memphis and what would become Restaurant Iris.
"When we walked into the building," that would become Iris, he explains, "there was a stained glass fleur-de-lis. It was kind of a sign."
Then, as he was exiting the building, "There was a rainbow over the building. I thought a frigging unicorn was going to jump out of the bush."
(The restaurant's name is a subtle nod to the fleur-de-lis, as well, as the symbol can be seen to represent an iris as well as a lily.)
The menu at Restaurant Iris blends English's Louisiana background with the contemporary interest in local, sustainable produce and a sense of playfulness. While English concedes that his restaurants will always reflect his personality, he says, "The real purpose is to play to the diners. There's nothing I won't do for a guest. We're going to go and give people the best experience we can."
As for splitting time between Memphis and his new project, English foresees being in St. Louis "as much as my car will allow me."
"We're going to get to know the farmers in the area," he says, adding that one of his purveyors at Restaurant Iris is Newman Farm, which raises heritage-breed pork in Myrtle, Missouri. "We're going to take as much as the soil can give us."
Will English find a second home in St. Louis? He certainly knows which buttons to push: "I had one of the best meals in my life at Niche," he tells Gut Check and, later, "I'm am an avid Cardinals fan." (He also notes that his Saints are playing the Rams this year.)
"I love cities that have a soul, and St. Louis definitely has a soul," he says. "I couldn't be more excited for this opportunity."