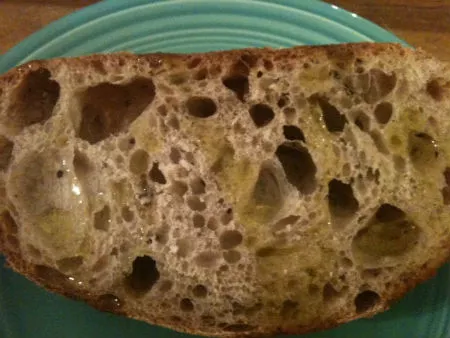 Robin Wheeler
Companion's Rustic Olive Loaf
Picking a favorite bread from Companion (8791 Clayton Road, Ladue; 314-352-4770 and 8143 Maryland Avenue, Clayton; 314-721-5454)? It's not easy. Not even a little. But if forced to choose in some terrifying situation involving firearms or knives not meant for loaves, Rustic Olive Bread are the words tumbling from our mouths.
Companion doesn't use the Rustic Olive Bread on any sandwiches at their cafes, but that's OK -- toppings would just get in the way of the earthy, slightly sour flavor. The Kalamata olives give a tinge of bitterness, but their flavor is subtle enough to please even the olive-haters among us.
With a drizzle of olive oil filling the airy holes and softening the chewy crust, it's bread that isn't just the backdrop to some sandwich; it stands on its own.
Although we wouldn't complain if we happened to have a slice topped with salami.
Beginning last year, RFT restaurant critic Ian Froeb counted down -- in no particular order -- 100 of his favorite dishes in St. Louis. Now Gut Check has taken up where he left off. Check back frequently as we detail our 100 favorites, and don't hesitate to send us yours, too, either via the comments thread or at tips@riverfronttimes.com.
Previously:
#79: Salt and Pepper Shrimp from Wei Hong #80: Ba-Mee Mhoo Dang at Basil Spice #81: Catfish Platter at the Gumbo Shop #82: Shrimp & Andouille Flatbread at the Shaved Duck #83: Vegetarian Pasta at Terrene #84: Seafood Stuffed Mushrooms at Zia's #85: Legend Club at LeGrand's Market & Catering #86: City Coffeehouse & Crêperie's Nutella-Banana Crêpe #87: Raw Vegetable Lasagna at Scape #88: Quesadilla Azteca from Tower Tacos #89: The Perfect Pear at Foundation Grounds #90: Banh Mi Sandwich from Sweet Art #91: Chicken and Dumplings at Yummies Soul Food Cafe #92: Cuban Sandwich from La Tropicana #93: The Prosperity at Ruma's Deli #94: Cherry Cheese Danish from Missouri Baking Company #95: Bread Pudding with Whiskey Sauce at Ruth's Chris Steakhouse #96: Egg Salad Sandwich at Township Grocer #97: Cheeseburger and Fries (Extra Crispy) at O'Connell's Pub #98 Mussels & Fries at Brasserie by Niche #99: Beef Taquitos Mexicanos at El Indio #100: Spinach Artichoke Dip at Cafe Eau