This is part one of Emily Wasserman's Chef's Choice profile of chef Peio Aramburu of Bistro 1130. Part two, a Q&A, is available here, and part three, a recipe from Aramburu, can be found here.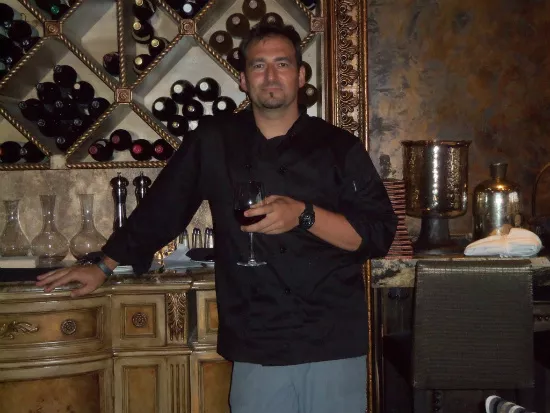 Walking into Bistro 1130 (1130 Town & Country Drive, Town & Country; 636-394-1130), the lights are dim, the décor is mostly black and white, and the only person standing in the dining room at 3 p.m. on a weekday afternoon is the manager. But then, Chef Peio Aramburu arrives from the back of the restaurant, looking harried and somewhat distracted. He whips out a cell phone and starts passionately discussing something in Spanish, and the manager watches him enter. "The star has arrived," he says. It's hard to tell whether he's serious or joking.
After visiting Bistro 1130, however, it's clear that Chef Peio, as he is fondly known to kitchen staff and servers, is definitely the main act in the restaurant's repertoire. Although it's hardly the first time Aramburu received the star treatment.
"I had girlfriends that would bring me lunch when I was four," Aramburu says. "Six months after I started school, my mom realized that I was supposed to bring a lunch. The other moms would say, 'Your son is eating my daughter's lunch!' I guess after 37 years, nothing has changed."
Aramburu was born in a little town called Hondarribia in Spain's Basque Country. As he discusses his childhood home, he draws a map on his chef's notepad. The French order was only 150 yards away from Aramburu's childhood home, and San Sebastián, a Spanish city renowned for its culinary delicacies, was only twelve miles away. As a result, Aramburu attended a French-speaking high school, and is now a fluent speaker. He developed a passion for food early on, especially for fresh ingredients and produce.
"My favorite foods when I was a child were salad and bread," Aramburu says. "I ate a salad every day of my life and lots of fresh fish -- not red meat that often. My family had a tradition where every summer, we bought three whole tunas up to 80 pounds, cleaned and canned them, and then ate them with a salad in the winter."
It seems natural, then, that with all of the cooking and attention to detail at home, Aramburu would choose a chef's life after high school. But according to him, this wasn't the case.
"Every chef has crazy stories about how the smells from the kitchen made them want to be a chef, or cooking with grandma, but I don't," he says. "My uncle was a chef on a cruise ship, and his stories about travelling and seeing the world appealed to me."
Aramburu followed this spirit of adventure and traveled the world. By 2001, he had made his way to Missouri, where he worked for almost five years at two restaurants in Columbia. He joined the Bistro 1130 staff in 2010 as a cook but quickly moved up to head chef.
At home, Aramburu is the proud father of two daughters. He likes cooking with his girls and refuses to buy them chips and other junk foods.
"I'm not used to all the fast food and snacks because I'm not from the U.S.," he says. "At home in San Sebastián, we eat nuts, not Cheetos. I could spend 25 minutes at the fresh fish counter at Schnucks but walk right by the chips because they're not appealing to me."
Despite the many cultural influences that threaten Aramburu's culinary ideals, he remains committed to simple, fresh ingredients, both in and out of the kitchen. On his days off, he likes to play with his daughters and runs in his spare time. He isn't sure what his next culinary move will be, but in true keeping with his free spirit, he is sure that it will involve change.
"I look forward to changing the menu at the restaurant," Aramburu says. "I hope to change it every six weeks. By next summer, I hope to have networked more with local farmers and provide even more fresh ingredients on the menu."
_______________________________________________________________
Related Content
Peio Aramburu of Bistro 1130, Part 2 Peio Aramburu of Bistro 1130: Recipe for Buttermilk Poached Lobster Tail Salad