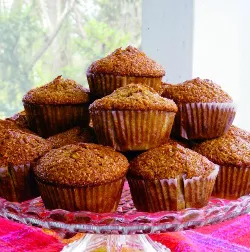 Bernadette's Catch-All Muffins
A former publications editor for the Missouri Department of Conservation, Bernadette Dryden sought out the advice of Show-Me State hunters, fishers, nut growers and mushroom foragers to pen a new cookbook that focuses on stuff you can find in your backyard: Missouri's native fare.
Rebecca Maples from the conservation department wrote in a press release that the MDC-published cookbook contains more than 100 recipes with an emphasis on local and seasonal ingredients such as Missouri's game, fish, nuts, fruits and mushrooms. (Note that nowhere was Provel or Budweiser mentioned.)
Putting a Midwest twist on classics, recipes in the cookbook use Missouri fruits to make Italian gelato and paddlefish to make French Niçoise salad, and Dryden included several recipes from employees at the MDC.
You can order your copy online for $15, and to give you a sneak peek at the cookbook, here's a recipe straight from the pages.
Bernadette's Catch-All Muffins 1 1/2 cups sugar 2 1/3 cups flour 2 1/2 teaspoons baking soda, sifted 1/2 teaspoon salt 1/2 cup oil 2 eggs 2 cups buttermilk 1 cup boiling water 3 cups wheat bran 1 cup golden raisins (or part dried cranberries, dates or figs) 1 cup pecans or hickory nuts (toasted lightly, preferably)
Blend together sugar, flour, baking soda and salt in one bowl and oil, eggs and buttermilk in another. Then, gently mix both together. Pour water over bran and fruit in a separate bowl; let stand a few minutes, then stir and gently combine with the batter. Stir in nuts. Pour into medium-sized muffin tins lined with paper cups. (Leftover batter can be stored in refrigerator for at least a week.) Bake in a 400-degree oven for 15-20 minutes or until a toothpick inserted in muffin's center comes out clean. Turn muffins onto a rack to cool.