Robin Wheeler
Mediterranean grazing at Remy's
The Place: Remy's Kitchen and Wine Bar (222 South Bemiston Avenue, Clayton), Tim Mallett's venerable Clayton restaurant that reflects Executive Chef Lisa Slay's Mediterranean and Lebanese heritage. It's not a place where moms typically haul their 7-year-olds for a summer vacation lunch, but there's only so much reconstructed chicken parts a kid can eat.
The Lunches: Everything starts with Remy's signature Kalamata tapenade with herbed crostini. For Mom, an option from the lunchtime-only Mediterranean grazing menu -- the soup of the day (cauliflower corn chowder), three falafel in a grilled pita and a salad of field greens, cucumbers and tomatoes with a side of feta- and olive-topped hummus for $9.95. Gut Check Jr. opted for a cup of tomato basil soup ($2.95) and an appetizer order of hummus ($5.50).
The Verdict: Looking a bit like a deconstructed falafel sandwich, we topped the salad with the falafel, drizzled with the cucumber-laden tzatziki sauce, and used the pita to scoop up the hummus. The salad exceeded mid-June freshness expectations, especially the thick slabs of juicy tomato. Lots of green herbs flavor the falafel, bringing them a step above cheaper versions found elsewhere.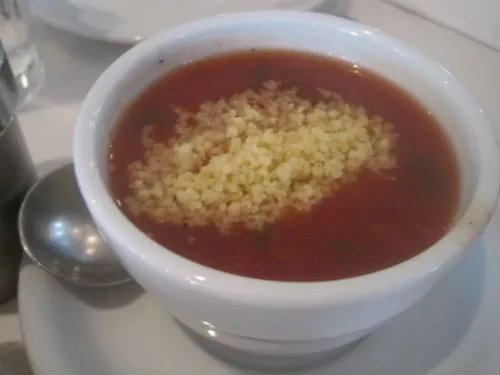 Robin Wheeler
Tomato Basil Soup at Remy's.
No kids' menu? No problem. Remy's always has tomato basil soup with the unexpected hearty addition of couscous. Gut Check Jr. tore into it with the zeal usually reserved for fries that never biodegrade. An appetizer of hummus makes an excellent protein course, and there's a good chance you'll have some leftovers.
Remy's still holds tight to the small plate concept it has had since the beginning, which makes a great introduction to better dining for kids. Half a falafel here, a tapanade-topped crostini there, and before you know it, you've got a kid who won't be on Freaky Eaters in twenty years.