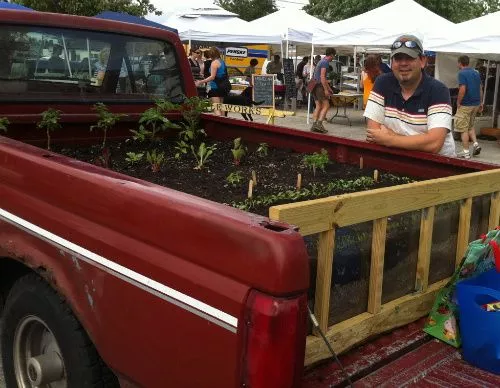 Holly Fann
Brian DeSmet and his farm on wheels
Gut Check was disappointed earlier this spring when we found out that the downtown farmers' market was cancelled for the year. Having a famers' market inside city limits in an urban setting is pretty sweet and a great educational opportunity as well. Enter Brian DeSmet, the market manager for the St. Louis farmers' markets. DeSmet has joined the small fleet of farmers who have cultivated a Truck Farm -- a mobile farm in the back of an old pickup truck. The trucks are not only a way to bring the farm to the people, but also a transportable education center and a moveable feast.
DeSmet and his truck farm will be in the parking lot of the Schlafly Bottleworks (7260 Southwest Avenue, Maplewood; 314-241-2337) tonight for a special screening of the film Truck Farm, which was the inspiration for DeSmet's farm on wheels. The free screening is sponsored by Slow Food St. Louis and begins at 7 p.m.