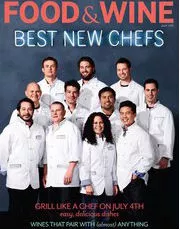 Food & Wine
Best New Chefs, 2011
Last week Farmhaus (3257 Ivanhoe Avenue; 314-647-3800 or www.farmhausrestaurant.com) owner/chef Kevin Willmann and manager Eric Scholle took their crew to the Aspen Food & Wine Classic, where Willmann was selected as one of 2011's Best New Chefs by Food & Wine magazine.
Even though it's a hectic three days of parties, food prep and events, Scholle found time to post about his weekend adventures on Twitter.
Says Scholle: "I have been tweeting for the restaurant (@farmhausstl) and for myself (@Farmhauseric) since we opened over a year ago. I feel like we get to experience a lot of cool and interesting stuff in our business, and I like to share that with other people. The Aspen trip was a once-in-a-lifetime experience that I was pretty excited about, and I wanted to share that excitement and experience with my friends and the rest of St. Louis."
Did you miss his live recounting of the event? We've culled the best of Scholle's Tweets, and he's expanded on the ones that merit more than 140 characters.
"The camaraderie between all the Best New Chefs was inspirational, and it was very fun to get to work and prep with all of them in the kitchen," says Scholle.
"Aspen is completely gorgeous."
"Even though we had a ton of fun, a conservative estimate of the amount of time Kevin and I worked would be around 100 hours," says Scholle. "It takes a long time to prep food for 1,000 people."
Scholle, taking a moment to admire the scenery.
Tweets and photos by Travel Channel's
Bizarre Foods
host Andrew Zimmern.
Serving Farmhaus' beloved bacon-wrapped meatloaf for 1,000 people took some ingenuity. "The hot-dog roller was a collaborative idea between Kevin and the rest of the kitchen as a way to crisp the bacon before serving it. The day before we left, I ran around town looking for one and luckily found it at Restaurant Depot. Everyone there thought it was hilarious and it actually worked very well."
They got some local love from Marianne Moore, Director of Catering and Conference Services at the Four Seasons St. Louis (@chefgirl55):
"I also enjoy the opportunities I get to work side-by-side with my boss Kevin in the kitchen because even though we work together just about every day, I am usually doing my front-of-the-house thing and he does the back of the house," says Scholle.
(Would you caption a photo with Jacques Pepin any differently than Scholle did? Of course not.)
(That's American for "Willmann's with Jacques Pepin!")
Just how did that happen? Scholle explains: "There was an after-party every night at this huge mansion twenty minutes outside of town. It was totally free, but I forgot my pass in the hotel room. I was trying to sneak through the check-in station with Carlo Mirarchi (Roberta's in Brooklyn) when Mario Batali and his entourage showed up. Batali brings a huge presence with him everywhere he goes. So everyone was kind of distracted, and I just scooted up behind his group and pretended like I was with him, and I got right in.
"One more thing: Mario Batali was definitely wearing bright orange clogs."
"That was the coolest house party I've ever been to. There were chefs hanging out and cooking in the kitchen, and beer just kept appearing in random places throughout the house."
How do you end such a jam-packed, whirlwind, once-in-a-lifetime event?