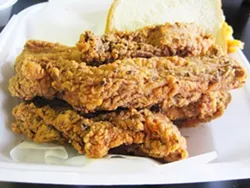 Ian Froeb
The fried ribs of Bigg Daddy's Fried Ribs
As I feared the week before last, Bigg Daddy's Fried Ribs (2812 North Grand Boulevard; 314-531-7427) has closed its doors. The restaurant announced the news via its website and Facebook page last week. (Tip of the hat to Ligaya Figueras at Sauce for catching the posts.)

Both Bigg Daddy's website and Facebook page note that the restaurant will continue to provide catering. I've reached out to the contact email provided for catering services for more info on the closure and the future of the fried ribs.

If you're wondering what, exactly, a fried rib is, check out my visit to Bigg Daddy's mere days before it closed.