Gut Check loves us some wine. We want a bottle with bang and a bang for our buck, so every week we will visit a local wine shop, where an expert will recommend a good-value wine priced under $15. We'll drink some and tell you whether we want to continue -- because the only time Gut Check has our nose in the air is while we're draining our glass.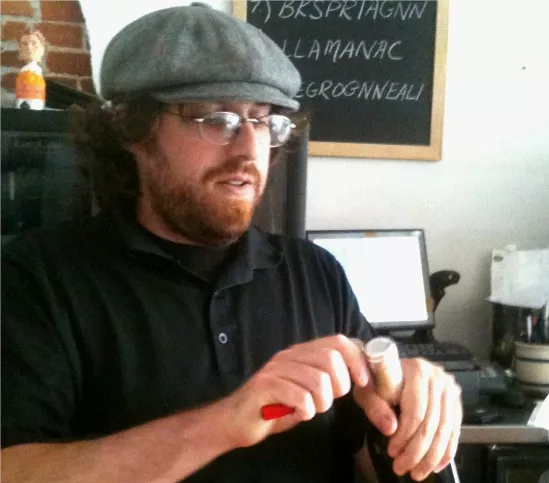 Antonio Pacheco
Stettner opens a bottle of wine
"We call that the 33 vortex," remarks Jeff Stettner, owner of 33 Wine Shop and Tasting Bar (1913 Park Avenue; 314-231-9463), as Gut Check finds ourself sitting at the bar, elbow-deep in conversation about food, wine and twitter scandals. If you're seeking a place to stop in, quickly grab a bottle of wine and exit, this might not be the place for you. Stettner takes great care in getting to know his customers and ensuring that they not only find the perfect bottle of wine, but learn about it, if they wish. "My customers are my friends; I care about them," Stettner says, remarking on a recent evening when he offered a ride home to a customer who had imbibed exceptionally enthusiastically. As customers walk in, Stettner greets them by name, gauges their mood and guides them toward a wine he thinks they'll like.
This neighborhood spot is tucked into an unmarked and unassuming storefront on Park Avenue in Lafayette Square. The large plate-glass windows illuminate an an otherwise deep and cavernous space, appropriately reminiscent of a wine cellar. The stone-tiled floors, sparse wall decorations and extensive wine collection visible from a propped-open door make the space feel casual and comfortable. The place is kept comfortably cool and the quiet is broken only by Stettner's mellow mix of music, inviting you to have a drink and explore the wines.
We asked Stettner for something to combat the ascending heat index.
"This will be good for a hot day," he says as he opens a chilled bottle: the 2009 Verdicchio di Matelica, a white wine from the Marche region in Italy, a mountainous territory on the Adriadic coast known for its impassible terrain and arid climate. The rocky soil and hot climate combine to yield grapes that produce a white wine that's both refreshing and moderately priced ($12.49 a bottle at 33).
How the winemaker describes this verdicchio:
"Dark straw yellow, with greenish reflections, crystal clear with a good consistency, the legs confirm the alcoholic and glycerol contents. On the nose this wine has notes of Golden apples and walnuts, juniper and jasmine. Nicely smooth and fresh on the palate, well poised alcoholic content and good body. Sapid walnut palate."
"Golden apples" is a bit of a stretch, and we did not pick up on any glycerol or walnut, so we went on drinking without bothering to look up the definition of "sapid." That said, we can imagine this wine pairing well with a bowl of nuts -- almonds, specifically. Andrey Ivanov, another 33 Wine expert, suggests a salad with a vinaigrette-based dressing.
Gut Check's take?
We spent some serious time tasting this wine, and with some help from Stettner, Ivanov and a wine rep at the bar, we prefer to describe the bouquet as having flat notes of acid and fruit. "Lemons, apricots and peaches," suggests Ivanov (not apples). We sipped and slurped a bit and picked up baking spice notes, specifically nutmeg and cinnamon, which complemented the lemon notes we detected earlier. The light-colored wine has a soft acidity that counteracts the bright fruit present in the aroma. A rich texture coats your mouth, giving the tang of the nutmeg time to settle in. The mild acidity lingers like spiked lemonade.
Stettner's right: This wine's great for summer.