This is part one of Amanda Woytus' Chef's Choice profile of chef John Griffiths of Truffles. Part two, a Q&A, is here, and part three, a recipe from Griffiths, can be found here.
Amanda Woytus
Chef John Griffiths of Truffles in the restaurant's dining room
On a weekday afternoon at Truffles (9202 Clayton Road, Ladue; 314-567-9100 or www.trufflesinladue.com), executive chef John Griffiths is breaking the news to an elderly couple that they'll have to come back at dinnertime if they want to eat at the modern Italian bistro. Smack dab in the middle of a renovation, the restaurant is filled with workers and hammers and drills, not hungry guests, who occupy the dining room during lunch rush. "Every day before service, there's something happening," Griffiths says. "We're not closing the restaurant. We're just undergoing a metamorphosis."
Once thought of as passé, the restaurant's kitchen, food and dining room are being made over for the sake of appealing to a younger audience. There's a new sommelier, a new menu focused on seasonal ingredients, new lighting, new chairs, you name it -- and leading the way is 32-year-old Griffiths, formerly of Larry Forgione's now-closed American Place.
If there's a chef to herald Truffles as the new hip place, it might be Griffiths. Sure, he's young. (Want more evidence besides his age? He snowboards and plays competitive four-man sand volleyball.) But he admits that he has accomplished a lot for his age. The Oxford, Michigan, native worked as a sous chef at microbrewery Big Buck and Takashi Yagihashi's Tribute Restaurant while training at the Great Lake state's Schoolcraft College. After graduating in 2001, he took up as a sous chef for Quality Kosher Catering before landing his first executive chef job in 2001 at Bay Harbor Yacht Club in Michigan when he was just 22. It was at the yacht club that Griffiths first met Forgione.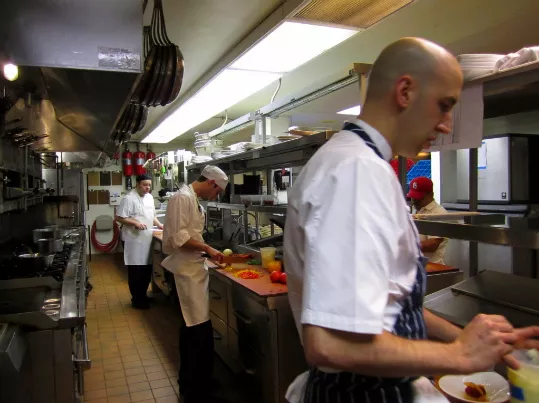 Griffiths' take on Truffles: The owners built it to be a grand restaurant, but it's developed into a more quiet, off-the-beaten-path place. No one wanted to shut down or rename anything, and when he showed the owners what he wanted to do with the restaurant, they shared his enthusiasm. The job was his. "We want to be a more relaxed style of restaurant," Griffiths says. "For a while, people believed that this was an old-school, formal dining experience. And we're shedding a lot of that right now." That's where the new sommelier and the tablecloth-free settings come in. "Right now, what we're doing is really exciting, and it's going to be a long process of reinvigorating this restaurant, this sleeping giant," Griffiths says.
But don't think that just because he's after the youngsters that Griffiths will settle for anything less than quality. When preparing food, he's all business. There are no baseball hats or music allowed in his kitchen, and Truffles' focus will still be on technique-driven food. "I've always been passionate about learning skills and techniques," Griffiths says. "The food is simple in that we don't put together a lot of ingredients....We buy beautiful-quality, fresh local milk, and make our own burrata with it....It's a really simple idea, but it's a very difficult technique to master, and it produces a result that's incredibly sublime and rich but also very clean and simple."
_____________________________________________________________
Related Content
John Griffiths of Truffles, Part 2 John Griffiths of Truffles: Recipe for Olive Oil Shortcake