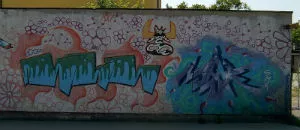 Wikimedia Commons
The cows are pissed.
The cows have finally had enough, and they're fighting back at the humans with pathogens striking our children.
A group of sixteen people from a fourth-grade class in Raymond, Wisconsin, developed Campylobacter infections from drinking raw milk.
A parent, whose name has not been released, unknowingly donated the tainted milk for a school event. Even though the farm where the milk was produced was in good standing with the Department of Agriculture and Consumer Protection, it still carried the bacteria, which comes from feces. Despite the illnesses, the parent and the farm will not be prosecuted because the milk was produced and donated within the law.
In northern France, eight children have been hospitalized with E. coli traced to frozen hamburger patties sold at Lidl stores.
Lidl is German-owned, but the E. coli found in the burgers is not related to the strain of the bacteria that's sickened 3,517 and killed 39 in Germany.
The beef came from a French processing facility that turns out 400 tons of ground beef per week, sourcing it from cattle in Germany, France, the Netherlands and Italy.