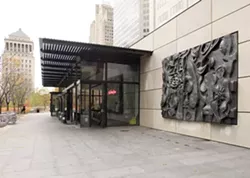 Jennifer Silverberg
The Terrace View, one of Jim Fiala's four restaurants in St. Louis
Jim Fiala
recently came to a conclusion about his four restaurants: "Life's too short to worry about feeding so many people."
Fret not, Fiala fans. The chef isn't closing the
Crossing
(7823 Forsyth Boulevard, Clayton; 314-721-7375)
,
Liluma
(238 North Euclid Avenue; 314-361-7771)
,
Acero
(7266 Manchester Road, Maplewood; 314-644-1790)
or the
Terrace View
(808 Chestnut Street; 314-436-8855)
.
What Fiala
has
done is remove a total of 120 seats from his restaurants. This isn't about leg room.
Fiala says the smaller occupancies reflect the realities of the St. Louis restaurant scene: "There's no business traffic. We're cooking for the locals mostly."
Obviously, planning for fewer diners helps a restaurant's bottom line, but to Fiala's way of thinking, the food benefits, too. "It's really helped the quality and the consistency," he explains. "That's been good to us."
As Gut Check reported Thursday,
Fiala's Terrace View recently parted company with chef Jonathan Olson
. This is the latest chef shuffle for Fiala, who recently named
Matt Abeshouse
, formerly of
Franco
, to head the Crossing's kitchen.
"He looks like an awesome fit there," Fiala says. "He's really been encouraging me to continue [exploring] my French roots. I lean a little more to Italian than French."