This is part three of Emily Wasserman's Chef's Choice profile of bakery chef Reine Bayoc of SweetArt. Part one can be found here. Part two, a Q&A with Bayoc, is published here.
Making recipes and presentation less and less conventional, more and more bakers are deviating from the norm. Whether it's adding bacon to a traditional doughnut recipe, or putting root beer in pound cake batter, chefs are finding innovative ways to serve up classics. Reine Bayoc's Jezebel Bars are the perfect example of such creativity. Bayoc combines Billy Goat Chips, a shortbread base, caramel and chocolate to provide customers with a sinful new dessert. And like some of the best inventions, the seemingly disparate parts form a surprisingly delightful whole. Bayoc's description of her wonderfully salty and sweet confection perhaps does it the most justice: "Jezebel Bars: a bar we created out of boredom! So wrong, but so right!" But there's nothing wrong with having one of Bayoc's bars -- or two or three -- in fact, resistance is futile.
Jezebel Bars
Shortbread Base
1 cup plus 3 tablespoons butter, softened 3/4 cup brown sugar 1/2 teaspoons salt 3 cups unbleached flour
Cream the butter and brown sugar together in a mixing bowl (or with a hand mixer) until well-combined (about two minutes) on medium speed. Add salt, blend, then add flour -- slowly -- until well-combined. (One to two minutes will do.)
Using a 9x13 pan sprayed with nonstick spray, or rubbed with more butter and dusted with flour, press the dough into the pan to make a single layer. Pierce the dough with a fork and chill in refrigerator for twenty minutes.
Once chilled, bake dough in a 350-degree oven for 25 minutes.
The Bars
2 1/4 cups dark chocolate Billy Goat Kicker's Potato Chips Caramel (see recipe below) Fleur de sel
When the crust is fresh and hot from the oven, sprinkle on chunks of dark chocolate. Throw the pan back in the oven for five minutes to melt the chocolate. When the pan is removed from the oven, use a butter knife (or offset spatula) to smooth it over the entire crust. Let sit on a cooling rack for ten minutes, then cover the top with Billy Goat chips (or your chip of choice). Use as many as you want; we use large pieces for a dramatic effect. Put pan in the refrigerator for 20 to 30 minutes just to seal the chips to the chocolate. While that's in the fridge, make the caramel.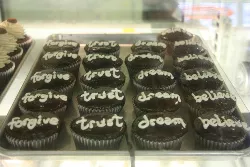 Salted Caramel
A note about caramel: By no means must you make caramel from scratch. You can Sandra Lee it and purchase some from the store. You can also buy caramel candies and melt them down. No pressure, but here's our recipe. (Oh, and you'll need a candy thermometer):
2 cups sugar 2 cups heavy cream 1 vanilla bean, split, seeds scraped out 3 tablespoon butter 2 teaspoon of salt
You'll need two sauce pans. In one, place the heavy cream and vanilla bean (with seeds). Just warm this pot -- don't boil it.
In another pot, place your sugar and water. Let this pot cook over medium heat until the mixture turns a deep amber color. Once that color is reached, carefully add the cooked sugar (caramel) into the heavy cream. Once the bubbling subsides, add your butter. Let the mixture cook until it reaches 240 degrees on your candy thermometer.
Once this temperature is reached, fish out your vanilla bean and throw it away. Also, add 2 teaspoons of salt.
Let the caramel cool for 30 minutes, then pour (as much as you want) over the chips. Sprinkle with fleur de sel, and you've got your Jezebel Bars. Enjoy!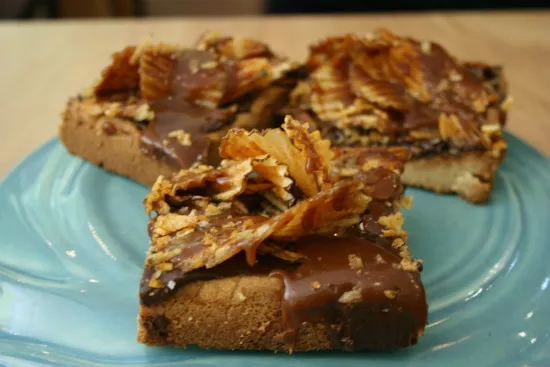 Chrissy Wilmes
Jezebel Bars
__________________________________________________________________
Related Content
Reine Bayoc of SweetArt Bakeshop Reine Bayoc of SweetArt Bakeshop, Part 2