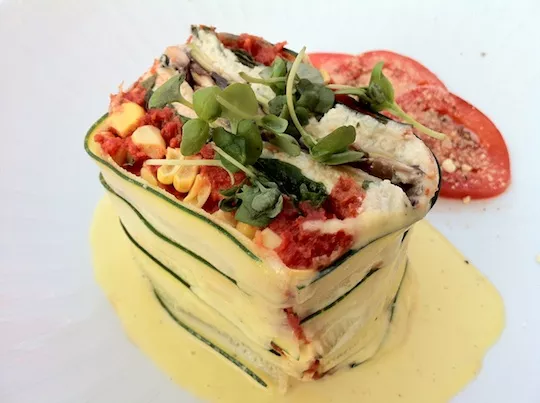 Bryan Peters
Scape's raw vegetable lasagna = magic
For too many years, raw food has gotten a bum rap in the press. Some of it has been deserved, no doubt, but there are some chefs capable of raw transcendence. Tucked away in the CWE, Scape (48 Maryland Plaza; 314-361-7227 or www.scapestl.com) isn't a place that screams "raw-friendly," but Gut Check's here to tell you that chef Eric Kelly has the requisite chops to dish out some serious raw cuisine.
Kelly's upscale menu is predominantly meaty, but he does have quite a few vegetarian-friendly offerings, including three items that are raw. Although most folks equate "raw" with "dull" or "unsatisfying," it's difficult to argue against the health benefits. Hidden at the bottom of the menu's raw food options is the light and fresh vegetable lasagna.
Stuffed with crimini mushrooms, spinach, basil and cashew "cheese," the lasagna is wrapped in a paper-thin zucchini casing. Omnivores and vegetarians alike would be tempted by the beautiful, vibrant presentation of this dish. Much of the credit for the dish's bold flavor falls in the lap of the cashew "cheese," but the sun-dried tomato marinara packs a punch, too. Chef Kelly has created a special entree here, and it deserves recognition as one of the best offerings in the city. Furthermore, it's probably the best raw entree in the Midwest.
Beginning last year, RFT restaurant critic Ian Froeb counted down -- in no particular order -- 100 of his favorite dishes in St. Louis. Now Gut Check has taken up where he left off. Check back frequently as we detail our 100 favorites, and don't hesitate to send us yours, too, either via the comments thread or at tips@riverfronttimes.com.
Previously:
#88: Quesadilla Azteca from Tower Tacos #89: The Perfect Pear at Foundation Grounds #90: Banh Mi Sandwich from Sweet Art #91: Chicken and Dumplings at Yummies Soul Food Cafe #92: Cuban Sandwich from La Tropicana #93: The Prosperity at Ruma's Deli #94: Cherry Cheese Danish from Missouri Baking Company #95: Bread Pudding with Whiskey Sauce at Ruth's Chris Steakhouse #96: Egg Salad Sandwich at Township Grocer #97: Cheeseburger and Fries (Extra Crispy) at O'Connell's Pub #98 Mussels & Fries at Brasserie by Niche #99: Beef Taquitos Mexicanos at El Indio #100: Spinach Artichoke Dip at Cafe Eau