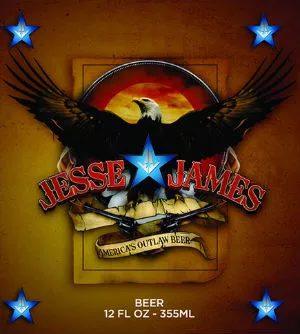 The Wine and Cheese Place
Jesse James is coming to St. Louis. In beer form.
Any guy who calls himself Jesse James has got to be a badass, right?
(Or a dumbass, if you don't particularly respect bank robbers, murderers, high-end motorcycle moguls and adulterers)
Jesse James Dupree, the vocalist and guitar/chainsaw-player of 1990s anti-grunge band Jackyl, has his own beer, and it's coming to the Wine and Cheese Place (14748 Clayton Road, Ballwin; 636-227-9001) this week at $7.99 for a six -pack.
Despite having his Big Balls Brewing LLC headquarters in suburban Atlanta, Georgia, Dupree's America's Outlaw Beer is brewed in St. Joseph, Missouri.
You know, the home of the original Jesse James.
The unfiltered wheat beer is sold all over Kansas City, and is served at Full Throttle Saloon in biker heaven Sturgis, South Dakota. Dupree also produces and stars in "Full Throttle Saloon", a reality show on Tru TV about the bar.
Is this the kind of mayhem we can expect with Dupree's beer in town?
Probably not. Just remember: alcohol and chainsaws don't mix.