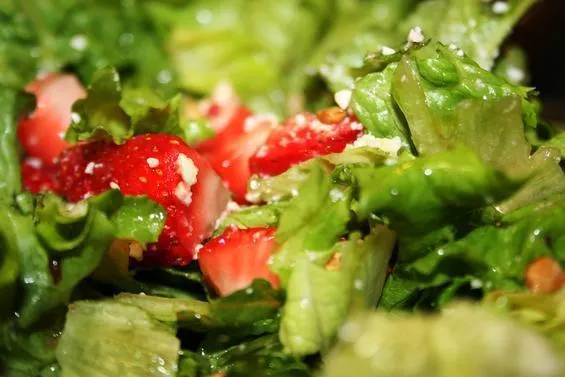 Sweet Tomatoes
Salad bar Sweet Tomatoes is just one local eatery donating to the Joplin tornado victims.
Update: Another restaurant is the latest in the string of eateries to donate to the Joplin relief effort. This time, area Culver's (4140 Rusty Road, South St. Louis County; 314-845-0964 or www.culvers.com) will donate 10 percent of sales for the entire day of June 14 to the American Red Cross to help victims of the tornado that struck May 22. You can also make additional donations at Culver's.
Head over to Daily RFT for a report from Albert Samaha on the southwestern town three weeks after the disaster. And just in case you're more motivated by food to visit the Wisconsin-born home of the ButterBurger-and-frozen-custard combo, the flavor of the day is Berries and Cream. Those cheese heads do love their dairy.
***
It's no secret that the way to Gut Check's heart is through our stomach, and eating for the benefit of others is most definitely our preferred method of fundraising. We've been keeping tabs on restaurants such as Houlihan's and Hardee's as they've raised money for victims of the May 22 Joplin tornado, which left 138 dead as of Thursday.
Now, a new batch of St. Louis restaurants are donating to relief efforts for the southwest Missouri town. Here's a roundup of where you can eat while donating to the Joplin victims. The full list of restaurants is after the jump. Let us know in the comments what we've missed.
The Tenderloin Room
Through Sunday, June 5, drop by the Tenderloin Room (232 North Kingshighway Boulevard; 314-361-0900) where you can sink your teeth into a nice hunka meat for a good cause. Located in the Chase Park Plaza, the steakhouse is donating twenty percent of dinner sales to the Joplin Disaster Relief Fund by way of the Salvation Army. The Tenderloin Room's menu ranges from $19 to $42 for meat and seafood entrées and includes your traditional salads and soups. With a romantic atmosphere (C'mon, the restaurant's name includes the word "loin"!), you're sure to score some generosity points should you choose the spot for date night.
CiCi's Pizza
Pull out your fat pants; it's buffet time.
The all-you-can-eat staple CiCi's Pizza (227 Arnold Crossroads Center, Arnold; 636-287-2424, 9745 Manchester Road, Rock Hill; 314-963-7200, 7425 South Lindbergh Boulevard; 314-487-2465) is holding a fundraiser on Friday, June 3, for the residents of Joplin. The restaurant's Joplin location is reported as being destroyed by the tornado. Every Missouri CiCi's location will donate ten to twenty percent of its total sales to the Joplin Community Salvation Army. Joplin's newest Salvation Army thrift store was destroyed in the storm and will need to be demolished.
Robust
If you need a couple of drinks to loosen your grip on the ole' wallet, you're in luck: Through the rest of June on Sundays, Robust (227 West Lockwood, Webster Groves; 314-963-0033) is donating all wine flight sales (three glasses of three-ounce pours) to the American Red Cross as part of Robust Recovery. Receiving 40 percent off the price of bottles, customers can imbibe on the cheap, and Robust will also donate 40 percent of those sales to the Red Cross.
Racks of clothes from designers such as Daisy Clover will also be available at Robust to peruse, with all proceeds going to the Red Cross. At $5 a pop, tickets to a raffle with prizes such as gift certificates to the outpost are another way to donate, and Robust will also accept additional cash donations for disaster relief.
Pizza Hut
Part of a four-state fundraiser, more than 550 Pizza Hut locations in Missouri, Kansas, Oklahoma and Arkansas will donate fifteen percent of all dine-in, carry-out and delivery sales on Monday, June 6, to the United Way Pizza Hut Tornado Relief fund. Part of the proceeds will benefit the Joplin tornado victims.
Organizing the event is NPC International Inc., the largest Pizza Hut franchise, out of Overland Park, Kansas. NPC owned and operated two Pizza Hut locations in Joplin, which were both destroyed by the tornado. Two NPC employees were also killed in the storm.
Sweet Tomatoes
Benefiting the American Red Cross, Sweet Tomatoes (9846 Watson Road, Crestwood; 314-966-3882, 10401 Olive Boulevard, Creve Coeur; 314-872-9181) will host a lunch and dinner fundraiser on Tuesday, June 7. Both locations, which boast healthful salad bars, homemade soups, muffins, focaccia and desserts, will donate ten percent of sales at the end of the day.
Sweet Tomatoes is also holding a two-week personal hygiene drive for the Joplin tornado victims from Tuesday, June 7 through Tuesday, June 21. Preferred personal hygiene items include toothbrushes, toothpaste, deodorant, shampoo, soap, wipes, razors and shaving cream.