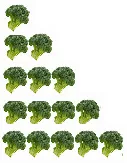 The Veggielante has had it up to here with people bitching that St. Louis restaurants are vegetarian unfriendly. Sure, we'd like to see more restaurants offering more meatless dishes, but there are excellent choices out there if you take the trouble to look for them. We're not here to proselytize about greening up your diet. Our only motive is to spread the word about places where you can order good grub that ain't got no meat. To enhance your reading experience, we've settled on a handful of criteria we'll use to suss out a restaurant's vegetarian friendliness.
Bryan Peters
The comfort of curry
Destination: Schlafly Tap Room (2100 Locust Street; 314-241-2337 or www.schlafly.com)
Neighborhood: Downtown
Overview: The focus at Schlafly's Tap Room and Bottleworks has always been squarely on omnivores, but it knows how to keep the vegheads plenty sated, too. By now, most folks know about Schlafly's great brews and its local commitment. Still, Schlafly's veggie efforts are sometimes under-acknowledged, particularly at the Tap Room, where the menu boasts both the familiar (homemade veggie burger) and the less familiar (vegetable vindaloo) commingling on the same menu.
The Grub: One might think a St. Louis brewpub is the last place you'd look for vindaloo, but the Tap Room's kitchen isn't one to play it safe. Yes, we would've preferred less potato and more of everything else in the vindaloo, as well as a bit more kick, but the curry was still quite pleasant, and we loved the addition of pepitas.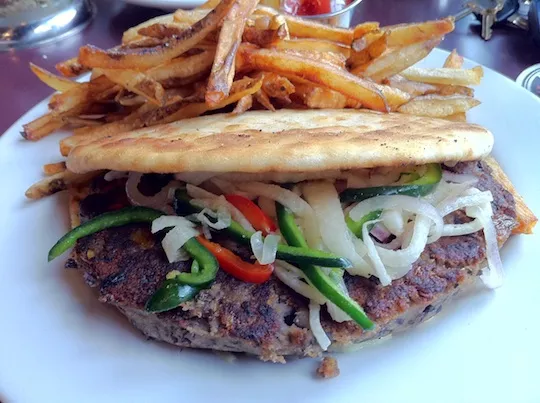 Like Scot Smelser at Bottleworks, Chef Andy White understands that there's no room in St. Louis for another banal veggie burger. At Tap Room, neither the veggie patty nor the toppings are cliché. The patty is stuffed with black beans and other grains, and there's a stunning char that gives it a rewarding crunch. There are plenty of green and red peppers, too, but perhaps most impressive is the marinated jicama and sweet corn puree. One rarely finds jicama sitting atop a burger (veggie or not), and we went gaga over the sweetness and the extra crunch. The flavor profile is a touch bland, however, and the patty could use a more flavorful bun. (It's possible the brioche would have been the perfect answer, but ours was served with some kind of flatbread.)
Ability/willingness to improvise: White not only has the ability, but he's also plenty willing to whip up something special if you ask.

Seasonality/sourcing: Although there are quite a few standard menu items, many dishes emphasize the produce unique to the season. Few restaurants in the area can match Schlafly's commitment to local, seasonal produce. Its philosophy has always been to build a stronger community, and it continues to foster relationships with local purveyors -- from Billy Goat chips to Ozark Forest mushrooms to Black Bear Bakery. And its Schlafly Gardenworks provides fresh produce to both locations.

Resistance to clichés (vegetable medleys, pre-made veggie burgers, etc.): Meaty or not, few of the Tap Room items are conventionally prepared. Chef Andy has done much to keep this menu fresh and inventive. Even the salads get the creative treatment. In fact, we already have plans to return to Tap Room for the apple and fennel salad.
Other dietary accommodations (vegan, gluten-free, etc.): The menu really is predominantly designed for omnivores and ovo-lacto vegetarians.
Extra credit: Tap Room stands tall as one of the handful of St. Louis restaurants to insist on a dedicated vegetarian fryer. The falafel, fries and pita chips never share the same oil as fish or meat.

Overall score
Standout item: The vegetable vindaloo