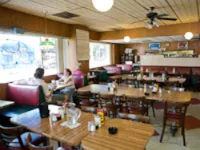 Stew Smith
Majestic Restaurant turns 50 on July 1.
On July 8 through 10, the Central West End's Majestic Restaurant (4900 Laclede Avenue; 314-361-2011) will be hosting its 50th anniversary bash. The grill-out event will take place outside the restaurant, along Laclede and Euclid avenues, and will feature drink specials, grilled brats, burgers and the famous pork souvlaki, a grilled pork and vegetable skewer served with pita bread and tzatziki sauce. The event will take place all weekend with the entire day of July 9 being the biggest and most important part of the celebration.
Majestic's actual 50-year anniversary occurs on July 1, but Pete Politis, whose parents opened the restaurant as a small diner in 1961, explains, "We didn't want to compete with the 4th of July weekend, so we pushed the celebration back a week." Lou Politis opened Majestic back when the Central West End was a bit sleepier and not quite the business district it is today.
After emigrating to the United States from Greece as a 14-year-old boy, Lou eventually found himself in St. Louis. After working a variety of odd jobs, he was able to gather enough experience and money to open his own establishment. "We didn't have as much going on back then," Pete elaborates as he shoots off a list of dishes Majestic is now known for, including its spinach omelet, eggplant lasagna, spanakopita, pot roast and lamb gyro. The business grew in the 1980s when the sidewalks around Majestic were widened, allowing the restaurant to expand into an adjoining building and also open its now-famous patio. The latest change came this year when Majestic became smoke-free. "Sometimes you can't tell, though," Pete says. "The gyro machine can generate a lot of smoke!"
Throughout its 50 years, Majestic has expanded and grown, but a focus on affordability and quality have always been central to the Politis family's vision for Majestic. "Our family focuses on good food and service -- home-cooked-style meals made in-house the right way," says Pete, also noting that he is a proud second-generation Politis who only wants to make the business better. "We're finally getting a website, and we are working on condensing the menu a bit to really focus on the dishes we do exceptionally well."