This is part three of Amanda Woytus' Chef's Choice profile of chef Ivy Magruder of Vin de Set. Part one can be found here. Part two, a Q&A with Magruder, is published here.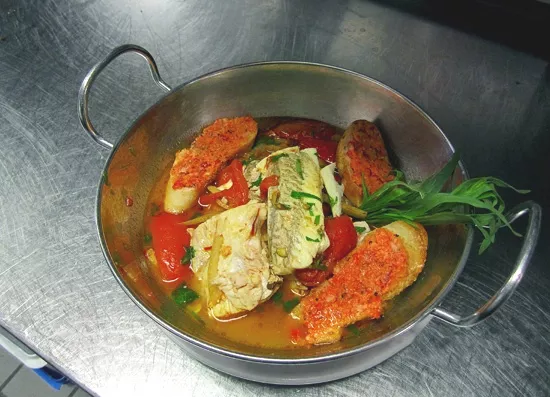 Amanda Woytus
Vin de Set's bouillabaisse
If you eat one thing on Vin de Set's (2017 Chouteau Avenue; 314-241-8989 or www.vindeset.com) menu, executive chef and general manager Ivy Magruder says to make it the bouillabaisse. After all, how could you refuse a classic bowl of fish stew while dining at the French-American restaurant?
Before opening Vin de Set in 2006, Magruder traveled with owners Paul and Wendy Hamilton to France. Their mission was to eat, drink and be merry -- and then take what they experienced back to the States as inspiration for their restaurant.
"I ate myself into a food coma," Magruder says. But the bouillabaisse he enjoyed in France blew him away. "It was like no other bouillabaisse I'd had," he says. "So I stole it."
Straightforward and clean, bouillabaisse fits into Vin de Set's concept while also hearkening back to the seaside port where it was born. The dish originated in Marseille, France, and Magruder's take on the recipe uses four types of fish: swordfish, sole, turbot and corvina. "Call it bouillabaisse; call it fish stew," Magruder says. "It's freaking good."
Bouillabaisse Broth
3 onions, sliced 3 heads fennel, sliced 20 roma tomatoes, roasted 1 cup orange zest 1 bottle of pernod 2 ounces saffron 4 bay leaves 4 quarts water 8 ounces of lobster stock
In a large stock pot, sauté onions and fennel until soft. Deglaze with pernod. Add tomatoes, saffron, orange zest, bay leaves, water and lobster base. Bring to a boil. Let simmer for 30 minutes.
Rouille
3 loaves of day-old bread, crust removed Skim milk to cover 3 roasted red peppers 1 cup whole garlic 1 cup olive oil 1 tablespoon Tabasco Salt and pepper to taste
Soak bread in milk overnight. Squeeze out milk and place bread in food processor with peppers, garlic and Tabasco. Slowly add olive oil to mixture until a smooth paste has formed.
Bouillabaisse
2 ounces swordfish 2 ounces turbot 2 ounces sole 2 ounces corvina ½ cup yellow onion, sliced ½ cup fennel, sliced 8 ounces bouillabaisse broth 3 ounces pernod ¼ cup tomatoes, diced 1 tablespoon tarragon 1 tablespoon butter Salt and pepper to taste 1 ounce rouille 3 crostini for each bowl
In a large pan, sauté fish, onions and fennel. Deglaze with pernod. Add broth, tomatoes, tarragon, butter and salt and pepper. Boil until fish is cooked. Pour into serving bowls. Place crostini on top of bouillabaisse.