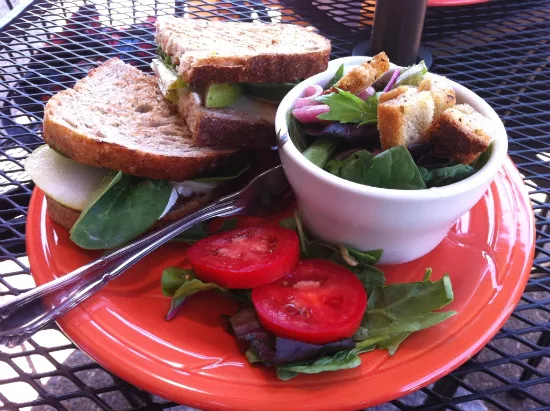 Vegetarian dishes are sometimes cliche, dull token items placed on the menu only to appease the occasional nonconforming herbivore. At Foundation Grounds (7298 Manchester Road, Maplewood; 314-601-3588), much of the menu is vegetarian (and some of it vegan), and it seems coincidental.
See, these folks take this "green" business seriously -- from the biodegradable corn cups to the locally sourced food. It's because of the quality of these fresh, local ingredients that Foundation Grounds highlights its fruits and veggies as much as it does, especially during peak season.
One definitely need not omit meat from his or her diet to appreciate the glorious "Perfect Pear" sandwich. Slices of melt-in-your-mouth pears, organic apple butter (that seeps into the toast), a slab of melted brie and some crisp greens between two slices of bread toasted to that crispy-on-the-outside-chewy-in-the-middle perfection that seems to only be possible with Companion's bread. If that weren't enough, the sammie's served with a small green side salad, which FoGro tops with marinated red onions and a savory balsamic vinaigrette.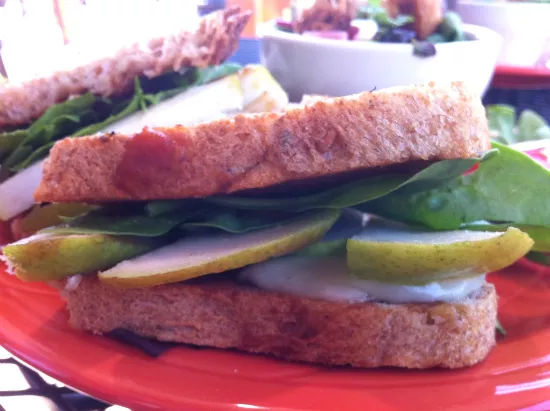 Aside from being a tasty, satisfying lunch, it's also light. A perfect way to leave room for and justify the consumption of one of the many tasty desserts options. It's important to think ahead.
Beginning last year, RFT restaurant critic Ian Froeb counted down -- in no particular order -- 100 of his favorite dishes in St. Louis. Now Gut Check has taken up where he left off. Check back frequently as we detail our 100 favorites, and don't hesitate to send us yours, too, either via the comments thread or at tips@riverfronttimes.com.
Previously:
#90: Banh Mi Sandwich from Sweet Art
#91: Chicken and Dumplings at Yummies Soul Food Cafe #92: Cuban Sandwich from La Tropicana #93: The Prosperity at Ruma's Deli #94: Cherry Cheese Danish from Missouri Baking Company #95: Bread Pudding with Whiskey Sauce at Ruth's Chris Steakhouse #96: Egg Salad Sandwich at Township Grocer #97: Cheeseburger and Fries (Extra Crispy) at O'Connell's Pub #98 Mussels & Fries at Brasserie by Niche #99: Beef Taquitos Mexicanos at El Indio #100: Spinach Artichoke Dip at Cafe Eau