Danielle Leszcz
Blue Ocean's Takoyaki appetizer
Having two restaurants with the same name within a couple blocks of each other sure has the potential to confuse diners. The original Blue Ocean Sushi (609 Eastgate Avenue, University City; 314-721-9168) sits off Delmar just one street west of Skinker, across from the Delmar Restaurant and Lounge. Meanwhile, the new Blue Ocean Sushi (6335 Delmar Boulevard, University City; 314-726-6477) occupies the former Seki, located in the middle of the Loop across the street from Star Clipper -- just blocks away from its sister restaurant.
Gut Check paid a visit to the newest outpost to see what sets it apart from its predecessor.
Danielle Leszcz
Blue Ocean Sushi's owner, A.K.
Inside, dozens of masu (wooden sake boxes) remain on the same shelves they've sat on for years, and an old green "Seki's" curtain hangs in the kitchen, indicating that, even though there's been a change in ownership, many things remain the same.
In fact, the decision to keep the changes to a minimum was a calculated one by new owner, A.K.(A.K. is his preferred name.) Having been a fan of Seki, A.K. says he wants to continue carrying out what Seki wanted to bring to St. Louis. "Seki was great," he says. "The food, the system, the people. I'm just giving it a newer package."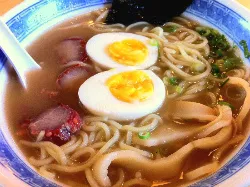 Danielle Leszcz
Blue Ocean Sushi's ramen soup
That newer package is evident on the new Blue Ocean Sushi's menu. Although Seki boasted a voluminous, six-plus-page menu, A.K. has consolidated it drastically, whittling it down to just one (albeit large) page. On the menu are items inherent to Seki, such as takoyaki (a battered, fried dumpling filled with chunks of octopus), ramen soup (using Seki's original recipe, which includes a broth that takes two days to make, fresh bamboo shoots and a soft-boiled egg) and a tempting assortment of kushiyaki (skewered items). Those, combined with Blue Ocean Sushi's uniquely named sushi sets ("Edward Norton" and "Kurt Cobain," for example) merge the best of both restaurants into one menu.
That menu is going to be continually evolving. Raw oysters will begin to be featured next week, and A.K. has plans to include periodic ramen specials.
Blue Ocean Sushi itself will be evolving as well. The original location off Eastgate will close later this summer, and the space occupying the former Seki's will eventually become the one and only Blue Ocean Sushi.