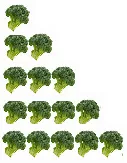 The Veggielante has had it up to here with people bitching that St. Louis restaurants are vegetarian unfriendly. Sure, we'd like to see more restaurants offering more meatless dishes, but there are excellent choices out there if you take the trouble to look for them. We're not here to proselytize about greening up your diet. Our only motive is to spread the word about places where you can order good grub that ain't got no meat. To enhance your reading experience, we've settled on a handful of criteria we'll use to suss out a restaurant's vegetarian friendliness.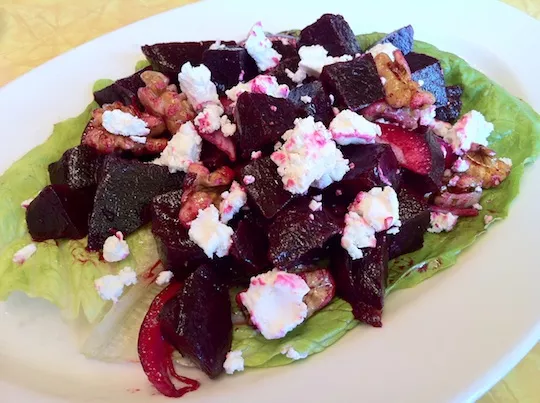 Bryan Peters
So fresh and so clean.
Destination: Mangia (3145 South Grand Boulevard; 314-664-8585)
Neighborhood: South Grand
Overview: Mangia has garnered quite a reputation for two things: churning out pitch-perfect homemade pasta and serving up copious Italian goodies on its lunch buffet. But the Veggielante knows there's a whole lot more going on at this South Grand eatery. Although the pasta is divine and there are numerous vegetarian options, on this occasion, we opted for the beet salad, the Antonius sandwich and the Margherita pizza.
The Grub: The Veggielante has been on a beet bender lately. Whether gold, red or white, we're down. No doubt, many restaurants settle for canned beets, which might explain why so many folks dislike them. When you find fresh beets, though, the experience can be delightful. Mangia's beets were delectably fresh and perfectly cooked, and the pairing of chevre and walnuts completed the lovely mélange of texture and flavor.
Mangia uses homemade bread as the platform for its sandwiches, and though some might argue that the bread is too dense, the Veggielante likes how it sponges up the yummy sauce. In the case of the Antonius, the sauce is a pesto, and the sandwich needs every drop to remain interesting; without the pesto, the Antonius is just another portobello sandwich. (Note: The chips in the photo are indeed homemade, but they are not vegetarian- or vegan-friendly because of the mixed fryer.)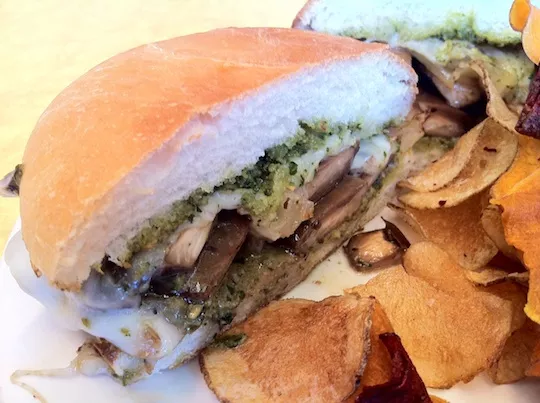 The Margherita at Mangia is just the right size for a single serving, and the tomatoes were impressively fresh. The salty mozzarella balanced the tomatoes beautifully, and we were particularly intrigued by the cracker-like crust: each slice crispy enough to avoid sogginess but supple enough to fold in half.
Ability/willingness to improvise: Although the Veggielante didn't require any substitutions, the kitchen assured us it would accommodate any special requests. For example, to ensure the polenta fries don't land in the mixed fryer, the kitchen graciously agreed to pan-fry them upon request.
Seasonality/sourcing: When chef Clara Moore came to Mangia in 2006, she introduced a commitment to a green, locally invested restaurant. When chef David Timney took over, he reiterated Moore's philosophy, evidenced by Mangia's rooftop basil garden, seasonal menu featuring fresh produce (figs from a neighbor? Awesome!) and green initiative and recycling program. Mangia doesn't earn a perfect floret score, however, because it hasn't yet fully committed to local products and purveyors.

Resistance to clichés (vegetable medleys, pre-made veggie burgers, etc.): Not unexpectedly, Mangia has its fair share of conventional Italian dishes. Still, the kitchen has made an effort to offer a wide variety of innovative items, including vegetarian toasted ravioli, polenta fries and homemade root vegetable chips. The problem here is not the concept; it's the execution. Considering all of the fried items are dunked in a mixed fryer, it means that none of them truly qualify as vegetarian. If the kitchen would add a dedicated vegetarian fryer, this rating would shoot up considerably.
Other dietary accommodations (vegan, gluten-free, etc.): Although Mangia's menu has a surprisingly large number of vegetarian items, it does not cater to vegans. And, y'know, it's a pasta place, so gluten-free isn't really happening either.
Extra credit: Awesome service and comfy, retro vibe


Overall score
Standout item: The beet salad