This is part two of Amanda Woytus' Chef's Choice profile of chef Ivy Magruder of Vin de Set. To read part one, click here. Part three, a recipe from Magruder, can be found here.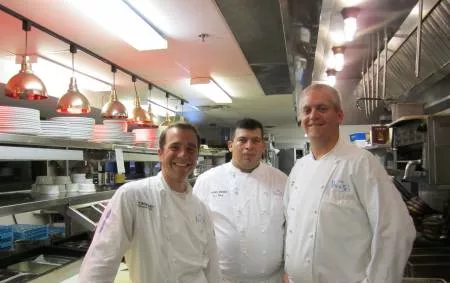 Amanda Woytus
Vin de Set's Ivy Magruder with kitchen manager Israel Perez and sous chef Kirby Jones
Did your family cook when you were a child? Absolutely. My mom is an excellent cook, both grandmothers were excellent cooks, my grandfather was a butcher. My great-grandmother was straight-off-the-boat Polish. My mom was smart enough to realize she wasn't going to be around forever, so she invited my grandmother over for a week and she literally said, cook everything. She wrote down all the recipes. I vividly remember that week of my childhood. Even as a kid, I knew how cool and special that was.
How old were you when you started cooking? I can't remember a time when I didn't want to be in the kitchen. My kindergarten teacher still comes in here, and she swears up and down I talked of cooking in kindergarten.
First cooking job? My first paid cooking job was at a now-defunct banquet hall off of Manchester Road. It was a wonderful experience, but I wouldn't say it was fine dining. It was one of those things where I was hired as a dishwasher and somebody called in sick, like, "Kid, come over here and help out." My parents had to forge a worker's permit to even get me there. I couldn't have been more than 12 or 13 when I was cooking for a paycheck.
Did you attend culinary school or college? I went to Johnson & Wales. At the time, there was a campus located in Charleston, South Carolina, and that's where I went.
What do you eat? I have three kids, and they're young, and this requires a lot of my hours. And kids are very expensive. So I don't get to take them on these wonderful experiences around the world like I dream and hope one day I will be able to afford them. For now, what we do, minimum of twice a month; we'll pick a place on the globe, and we'll go there. We'll cook the food. We eat as ethnic as possible and as weird and obscure, so we can turn our kids on to wonderful food and try to make them well-rounded.
What do you cook at home? The older I get, the fatter I get, so we're trying to eat healthier around the house, and there's that responsibility you have to get your kids. If we're eating fatty food one night with this Polish cuisine because we're going to Poland, we need to balance it out the next with greens.
What are your three favorite restaurants in St. Louis (besides your own!)? It's one of those things depending on what I want to do. If I want to have Italian, I've never had a bad experience at Trattoria Marcella. It's cliché to say all the big names, but there's a reason why they're the big names. Niche is phenomenal. Gerard's is tremendous Italian.
The local chef who most impresses you? My wife. I'm not just scoring points. She has zero training. [Chefs] are dicks. We're hateful, horrible people. There's no reason to be cocky. My wife's like, "It's just food." She'll go to the grocery store, and she's so humbled by her talents. And I'll come home and look in the refrigerator, and I'm like, "This is better than what half of St. Louis is serving tonight, and it's cold and leftover."
Your favorite restaurant elsewhere? Carolina Inn, in Chapel Hill, North Carolina.
Your favorite food city? Chicago. I still think it has the Midwest value, and you don't get that New York pretentiousness.
Favorite recent food find? Mock me if you must because this is a trend, but I love coconut water.
Most essential ingredient in your kitchen? Salt and pepper.
Favorite local food find, and where do you get it? Just finding a good butcher.
Five words to describe your food. Simple. Clean. Approachable. Delicious. Warming.
One food you dislike. Mushrooms.
A food you can't live without. Let's go with something fun like popcorn. I love popcorn.
An ingredient never allowed in your kitchen. Liquid smoke. It is a shortcut, a cheat. It's lame and pathetic.
Culinarily speaking, St. Louis needs more... Open-minded diners. See how I did that? I turned it away from the restaurants.
Best tip for home cooks. Experiment. There was a time in college with ... No, I'm just kidding. All the time we're experimenting and falling on our face. You look in our kitchen, and we're all happy and overweight because we're constantly trying stuff.
Favorite after-work hangout. Home.
Favorite kitchen tool. Robot coupe products. ​ What's next for you? Dinner service.
What inspires you? Our guests.
Chefs who inspire you. I'm going to keep my answer generic and say anyone who is humbled by their success, humbled by their talents and realizes it's not about them: it's about the guests.
Favorite cookbooks? The French Laundry Cookbook, The Greek Cookbook and The Dirty Rotten Italian Cookbook. The latter two are collections from parishioners from different church cook books that I picked up along the way.
Proudest professional moment? Being part of something like Eleven Eleven and Vin de Set and being here eight years later. Opening a restaurant is easy, it's a lot of hours, but the fact that we're still here... I'm extremely proud of the people I work alongside. This is a lot of fun. I'm very proud of what we've accomplished.
Favorite music to have in the kitchen? Johnny Cash. "A Boy Named Sue" because I almost named my son Sue. Named him Cash instead.
What's on your pizza? Tomatoes and anchovies.
What's in your omelet? Avocado, tomato, cheddar cheese. I am trying to eat healthier, so it's an egg-white omelet.
What are you drinking? Hendrick's martini.
What's the most surprising food you've eaten? Tongue freaks me out.
What's the most difficult lesson you've learned in this business? I am devastated when a guest is not happy here, and the most difficult thing for me to learn was that everyone is entitled to their opinion. I'm not going to make everyone happy.
When did you know the chef's life was for you? I think I've always known. A friend of mine who was in this industry, and I quote him all the time, said: "I wouldn't wish it upon my worst enemy, but I wouldn't change it for the world."