Courtesy of the Brewers Heritage Festival
Being a geek might not be so bad after all, especially if you're a "beer geek." And this weekend at the St. Louis Brewers Heritage Festival, beer geeks from all over the city can indulge their inner nerd with beers from seventeen local breweries.
This will be the fifth annual Heritage Festival. On Friday, June 10, and Saturday, June 11, more than a dozen brewhouses will be in attendance, and some 75 varieties of beer will be available on tap. For the brewers who work behind the scenes to select this year's beer and prepare for the festival, the event brings out their true nerdy selves.
Stephen Hale, Schlafly's brewmaster, attends more than a dozen beer festivals each year, but he says this is one of his favorites.
At this festival, kegs are tapped and beer is poured by the festival coordinators, which means Hale's only task is mingling with the slightly tipsy festivalgoers and gabbing about the hoppy product he loves so much.
"Brewers like to come up and be rock stars," he says. "We love talking to people about beer. And I don't mean that in a lighthearted way."
And with nearly 500 kegs at this year's festival, that's a lot of conversations.
But beer is one thing, aside from the Cardinals, that St. Louisans seem passionate about.
"There's a great beer culture here," Hale says. "It's a fabulous time to be involved in beer."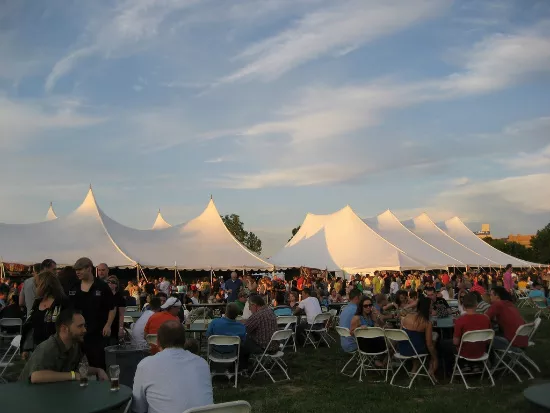 Courtesy of the Brewers Heritage Festival
A scene from the 2010 festival.
He might be right. By the end of 2011, more than 23 breweries will call St. Louis and its surrounding suburbs home. That's a huge jump from the three breweries that were in Missouri in when Schlafly made its first beers in the early '90s (the other two were Kansas City's Boulevard and Anheuser-Busch).
Hale credits that growth to St. Louis' strong beer culture.
"If a brewery needs anything, there's an amazing supportive network of brewers in this town," he says. "And it's not just the breweries. It's the bars and restaurants, home brewers and online chatter."
Phil Wymore, brewmaster and cofounder of Perennial Artisan Ales, knows how helpful that network can be. As one of the St. Louis area's latest breweries and a newcomer to the festival, he says he knows that if he needs anything, the other breweries will be there to help out.
It all seems almost too harmonious. After all, each brewery is still competing against each other for business.
But Hale believes there's room for everyone.
"It's kind of like listening to the words of Rodney King: 'Why can't we all just get along?' And we do."
The Heritage Festival is just one way all the brewmasters and beer-loving geeks can get together and join forces for the betterment of the beer industry.
The festival takes place on Friday from 7 to 11 p.m., and on Saturday from 1 to 5 p.m. and 7 to 11 p.m. Tickets are $30 prior to the event and $35 at the door, so to speak. Tickets can be purchased online at www.stlbrewfest.com or by calling 1-888-792-2424.