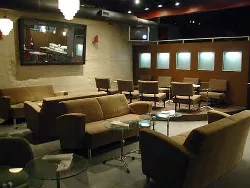 You might remember the old Miso Underground: that dank, subterranean grotto we all knew and loved. With its moody light fixtures, beige suede sofas and Don Johnson look-alikes, the place just screamed "ambiance." You know, back when "ambiance," meant something resembling an opium den.
But now, the Underground Lounge at Miso on Meramec (16 North Meramec Avenue; 314-863-7888) has undergone a makeover. So, Gut Check put on its sport coat and T-shirt combo, hopped in the Testarossa and rushed to Clayton for the reveal party.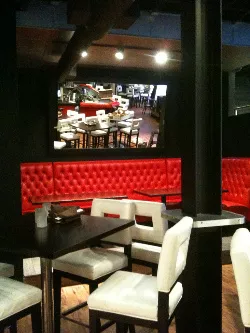 We were seriously impressed! Gone are crushed velvets, the inconvenient seating arrangements, the too-'90s blue and purple hues. Designed in part by restauranteur-turned-designer Jeff Orbin (of Herbie's Vintage 72 and Monarch fame) and Miso-owner Brad Beracha, the new lounge strikes a decidedly contemporary note -- one perfectly suited to fit chef Elliot Harris' new menu.
"We wanted a more clean-lined space," Beracha says, as he, Harris and various contractors were busily putting the finishing touches on the new space. "We're taking a basement and turning it into a chic lounge."
And that it most certainly is.
Delicately crafted leather booths line the wall directly opposite a spruced up bar. Matching, modular lounge chairs are organized around kickstand glass tables in the main room. High top tables mingle amid bar stools and structural columns.
The private, loft-style Kyoto Room sits perched above the party, and a lusciously red studded leather sofa stretches along an elevated dining platform. In this redesign, the furniture is king: It shapes the space and the circulation; it invites you to linger; it compels you to pose.
But the real genius of the new design lies in the LED light-up display opposite the bar, along the leather booths. With its undulating, pulsating light shows, the entire wall can evoke anything from a cloudy day in London to a late night in SoHo. Depending on the mood of the lounge, the time of night, or the night of the week, the displays can be programmed to cycle between any of twelve shades of color at varying speeds and intensities. The beauty of the Underground Lounge lies in its ability to shut out the rest of the world in lieu of a carefully -- and tastefully -- designed culinary experience. There are no windows, no smoking porches, and because of an angled and steep staircase, not even the lights and hum of the more traditional dining room upstairs hints at an outside world.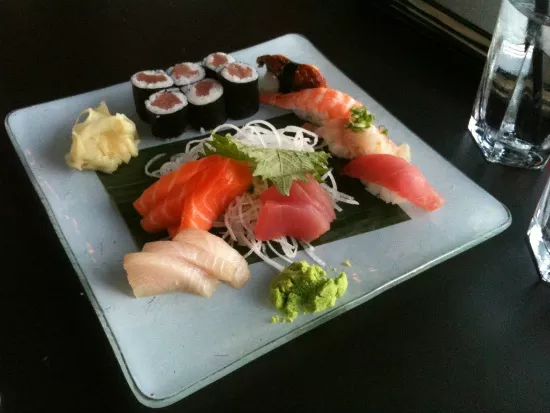 Instead, the customers, the decor, and the sushi set the tone and invite guests to eat and linger.