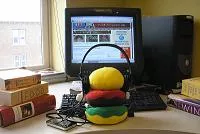 Gut Check dishes on our favorite St. Louis food blogs.
Cheesemonger's Wife: Annie wrote about developing a farm and the difficulties caused by excess rain.
Cupcake Project: Stef shared her unique recipe for roasted onions stuffed with savory bread pudding.
Family Style Food: Karen shared her recipe for a great, summery salad: cool spicy cucumbers with peanuts and lime.
Relish: George gave further details on Portabella's closing.
Iron Stef: Stef went to the Asian grocer and made a pork sung-wich.
Off the Menu: Evan wrote about Slow Food St. Louis' upcoming Feast in the Field.
One Hot Stove: Nupur whipped up chettinad-style mushroom pulao.
Sauce: Anxiously awaiting Summer produce, Suace celebrates yo choy.
Slow Food St. Louis: Slow Food St. Louis discussed an upcoming screening of Farm Truck, a film that takes a closer look at small, urban farms, at Schlafly Bottleworks.
Sounding My Barbaric Gulp!: Kelly wrote about her experience with deviled ham.