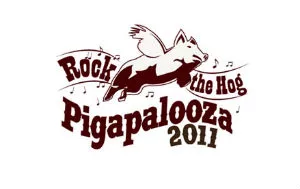 Jacob's Ladder Foundation
Pigs will fly in Swansea on Saturday.
When fifteen-year-old Jacob Kellogg died unexpectedly from an asthma-related condition in 2009, his family honored his memory by starting the Jacob's Ladder Foundation. The organization funds two scholarships to help students in need at Kellogg's alma maters, Belleville East High School and Wolf Branch Middle School in Swansea, Illinois.
Despite his young age, Kellogg had already developed an affinity for barbecue. On Saturday his family honors their son's love of smoked pork with the second annual Pig-a-Palooza at Schranz Park (Huntwood Road at Honeysuckle Lane, Swansea, Illinois). Last year's barbecue event raised more than $7,000 for the Jacob's Ladder Foundation.
Gut Check chatted via email with Steve and Deatrice Kellogg, Jacob's parents and the founders of the Jacob's Ladder Foundation, and with the event's pit master, Jay Bradshaw.
Gut Check What prompted you to start Pig-a-Palooza?
Steve and Deatrice Kellogg, Jacob's Ladder Foundation Jacob had many passions in his brief but eventful 15 years with us. Among his two favorites were good music and exceptional barbecue. So when we were thinking of the kind of fundraising event to have to raise money for Jacob's Ladder Foundation, it made sense to combine those two passions: music and barbecue.
The name Pig-a-Palooza was an obvious choice after that. So as you know, we have a barbecue festival on June 4 from 3 p.m. to 7 p.m. We will be serving ribs (Jacob's favorite), pulled pork, burgers and dogs. In addition, we have lots of rides and inflatables for the younger kids to keep them occupied while the parents bid on the silent and oral auction. Then at 7:30, Trixie Delight will be performing. Should be a great outdoor concert. The weather will be perfect.
Can you tell us about Jacob's love of barbecue? What do you think this event would have meant to him?
Favorite Jacob barbecue story? That's a tough one. Let me just say that Jacob was always on the lookout for good ribs. If we went to a restaurant that served ribs, he would order them. His favorite around here was Super Smokers, though they are no longer in business on this side of the river.
I dabbled in trying to smoke ribs, and Jacob was always nice about it and would say, "Dad, those were great." What an incredibly insightful kid to know that it was never a good idea to be critical of Dad's barbecue.
Jacob never got an opportunity to try any of Jay Bradshaw's ribs. That was a shame, because I think Jacob's quest to find the best ribs would have ended at Jay's smoker.
As for what Jacob would think about all of this, I think he would be embarrassed. Jacob never liked to be the center of attention. But embarrassing your kids is part of a parent's job, and it doesn't end after they have passed. Of course, to honor Jacob's memory, we felt it important to award scholarships to kids who needed it and who also had similar academic interests. That is what Jacob's Ladder Foundation is all about. Gut Check How did you get involved with Jacob's Ladder?
Jay Bradshaw The Kelloggs are my neighbors and our kids attend Wolf Branch School. To be honest, we weren't well-acquainted before they lost Jacob. But when something like that happens, a community comes together.
My wife heard about Pig-a-Palooza last year, and as a realtor, she signed up as a sponsor. When I heard about the barbecue side of things, I volunteered to help out. What will you being doing for this weekend's events?
Last year, I handled the pulled pork and rib cooking while another pit master handled the hog. This year, we're not doing a whole hog, but almost twice as much pulled pork. We'll fire up my Backwoods Smoker around midnight on Friday and expect the pork butt to start coming off the cooker in the early afternoon on Saturday. I've enlisted the help of my good friend and co-pit master Dave Dey to help with the overnight cooking. Dave and I will tend the pit overnight, and put on the ribs late Saturday morning. Then we'll have a handful of Wolf Branch/Belleville East fathers to assist with grilling burgers and dogs during the event. What's your barbecue background?
About ten years ago, I got serious about turning out good barbecue. That lead me to try out many different smokers, but I finally landed on the Big Green Egg as a my choice for versatility as an amazing grill and smoker. However, as I polished my skills and people began to ask me to cook for parties and special occasions, I realized that I needed more capacity. So I began cooking on Backwoods Smokers. Today I cook on the Pro Jr. model.
For several years, I've had a family blog. I'd blog about my kids and a variety of topics but barbecue began to take up a lot of space on the blog. I realized that there was a decent amount of traffic to the site specifically for the barbecue posts. That's when a friend of mine -- a home brewer -- and I decided to launch Grill and Barrel, a blog dedicated to barbecue and home brewing beer.
Read more about Bradshaw's barbecue journey in his own words.