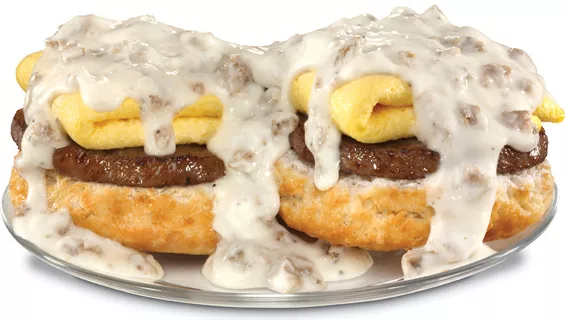 Hardee's
Eat this at Hardee's to help the victims of the Joplin tornado.
If you're searching for ways to donate to disaster relief efforts following the deadly tornado that ripped through Joplin on May 22, Hardee's has a couple of options -- and one involves biscuits.
On Thursday, June 2, stop by Hardee's corporate headquarters at 100 North Broadway, where the fast food restaurant will sell cinnamon-raisin and sausage-and-egg biscuits for just $1 each. The fundraiser is not being held at an actual Hardee's location, but rather the lobby of the Bank of America Tower, where the company's execs have their offices. (Hey, the fast-food company must be jumping on the pop-up restaurant bandwagon!) All proceeds will be donated to Red Cross relief efforts in Missouri. Breakfast will be sold from 7:30 a.m. to 10:30 a.m., and extra canisters will be on-site to collect additional donations.
Also on Thursday from 5 to 7 p.m., all St. Louis area Hardee's will donate 20 percent of dinner sales to the relief effort. (Now's your chance to eat a Thickburger and not feel terrible about it!) Red Cross collection canisters will be at each Hardee's location should customers want to make donations throughout the weekend.
Nationally, Hardee's is planning to donate an additional $30,000 to disaster relief efforts following deadly weather this past spring in Alabama, Tennessee, Mississippi, North Carolina, Kentucky and Missouri. Andrew Puzder, CEO of CKE Restaurants, which owns Hardee's Food Systems, is scheduled to present the check to the Red Cross at 9 a.m. Thursday at the Hardee's headquarters.