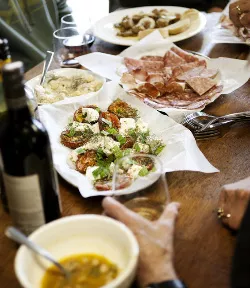 Jennifer Silverberg
A tasty spread at Salume Beddu
Yesterday lifestyle columnist Larry Olmsted of Forbes declared Salume Beddu the best salami in the country.
"It's pretty crazy. We are both incredibly humbled by the article," Salume Beddu co-owner Mark Sanfilippo told Gut Check. "We just try to put out the best stuff we can using the best pork we can find. We love that St. Louis is supporting us, and we are excited to have some national recognition as well."
Olmsted noted that despite the trendiness of "house-cured" meats like prosciutto, the United States is severely lacking in quality Italian sausage. Even Mario Batali's meat checks in as just OK.
But he heaps praise on Salume Beddu, particularly their Spalla Cruda. He called the cured pork shoulder "tenderly fat, like a half and half mix of prosciutto and lardo." Olmsted also cited owners Ben Poremba and Mark Sanfilippo's use of local pork, their ability to track where the pork originated, and even their willingness to influence the meat's flavor by dictating what the pigs are fed.
Olmsted provided ordering information to readers, and the response has been quick.
"Since it came out we've had a lot of interest from other places in the country, so that is exciting as well," said Sanfilippo.
Gut Check's Ian Froeb reviewed Salume Beddu this week.