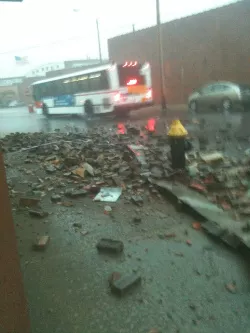 Update: (Tuesday, May 24, 11:25 a.m.) Gokul is open today. -- Ian
---
Gut Check happened to be dining at Gokul Indian Restaurant (6101 Delmar, 314-721-1888) when a severe thunderstorm abruptly roared through.
A loud thunderclap was followed by a large piece of the building crumbling to the ground, leaving the sidewalk and street filled with bricks and other debris. The fallen bricks appear to have come from the parapet that runs along the building's roof.

Fortunately it only affected Gokul's side of the street, where there were no cars or pedestrians at the time. There are no known injuries, and there appears to be no damage to the interior of Gokul. It is not yet known if the office spaces above the restaurant were affected.
At 12:40 p.m., a few moments after the incident (which presumably was caused by a lightning strike, though St. Louis fire officials have yet to confirm that), patrons were still eating inside the restaurant. By 12:45 p.m., firefighters had arrived and authorities began evacuating the building.
Updates to come as we learn more.