Bon Appetit
Gwyneth's back! Not that she ever goes away.
Oh look. It's Gwyneth Paltrow on the cover of the new issue of Bon Appetit. Because she's everywhere.
Acting? Yeah, that's fine. But then there was the singing. And now she's pushing her cookbook, My Father's Daughter and cooking on every gab show.
Like Ellen, where she can't control her heat and calls Ellen a jerk.
Who wants to bet that her cookbook will join these other celebrity cookbooks in the bargain bin before it's time to make Thanksgiving dinner?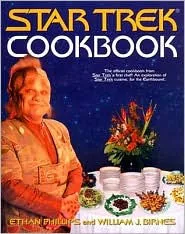 The cookbook-based-on-fictional-TV-show is the worst of the celebrity cookbooks. It assumes that its fans are rabid enough to want to eat just like the characters they love!Who does that?
Oh, right. Trekkies. They can do it with this book. Neelix, chef for the U.S.S. Voyager, adapts recipes from all the Star Trek franchises in this 1999 book.
Desperate Housewives Cookbook: Delicious Dishes from Wisteria Lane
Desperate Housewives fans aren't as interested in cooking like their Wisteria Lane counterparts, leaving this 2007 book in the bargain bin. It can be yours for $12.
Mariel's Kitchen: Simple Ingredients for a Delicious and Satisfying Life
Who? Oh, right - Ernest's granddaughter and the chick from that lesbian track and field movie. She claims there was a demand for her recipes in this video, watched 6200 times in the two years since the book's release.
The Tammy Wynette Southern Cookbook
This doesn't seem like a bad idea. After all, Ms. Wynette was a country queen, once a single mom, partner in several tumultuous marriages. She probably had to fry a chicken once or twice in her time. Her cookbook was reprinted a decade after her 1997 death so her Mississippi-style stuffed bell peppers live on. Dining with the Duchess: Making Everyday Meals a Special Occasion
Fergie, the former Duchess of York, has a new show on OWN, but she's probably not going to be making Weight Watchers recipes on it. That was the focus of her 1999 cookbook, which is marked down to a measly $6. Buy one and help her get out of bankruptcy, won't you?
Eat, Drink and Be Kinky: A Feast of Wit and Fabulous Recipes for Fans of Kinky Friedman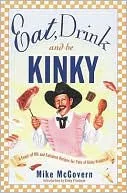 He writes. He makes music. He runs for governor of Texas. Of course Kinky Friedman cooks. He does everything else. Except write cookbooks; he left that job to his pal Mike McGovern.
The Sinatra Celebrity Cookbook: Barbara, Frank & Friends
Rejected title: Martinis and Smokes.
Kill It and Grill It: A Guide to Preparing and Cooking Wild Game and Fish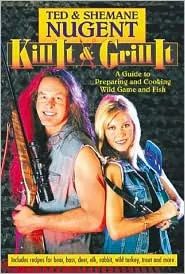 Wang tang sweet ... venison. The Motor City Madman's almost as well-known for his hunting advocacy as he is his music, which must be why the cookbook he co-authored with his wife Shemane Nugent has been in print for nearly a decade. Either that, or people are afraid to not buy it.