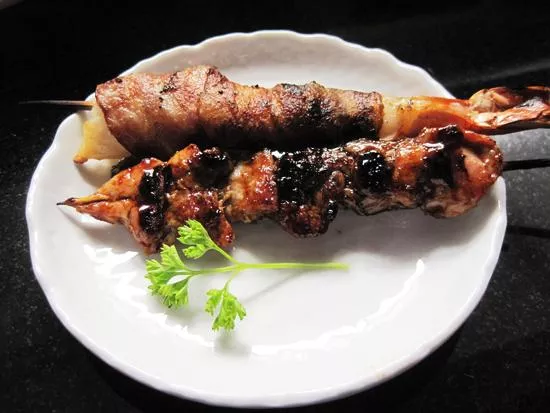 Ian Froeb
Yakitori tare and a bacon-wrapped shrimp at Izakaya Ren
Whenever I recommend a new restaurant, I do so knowing that trying it represents a far greater investment for you than it does for me. Today, however, I can make a suggestion confident that, if I'm wrong, or if you and I simply have different tastes, I won't be costing you more than a buck eighty-five (plus tax and tip).
That is the cost of
yakitori tare
at the new sushi and sake bar
Izakaya Ren
(2948 Dougherty Ferry Road, Valley Park; 636-825-3737). This brings you a single skewer of grilled chicken in sweet (but not too sweet)
tare
sauce. It's a simple dish, a bar snack, which is essentially the point of an
izakaya
. It won't change your life, but it will push primal buttons of salt and char.
Still hungry? Order another skewer, or something else from the lengthy menu. Pictured here with the
yakitori tare
is a skewered shrimp wrapped in bacon. It's not bad -- though it will set you back $3.85. Whether that's a worthwhile risk, I leave to you.