On Thursday, Bon Appetit's blog writer Michael Singer lovingly classified Los Angeles food photographer Matt Armendariz's new book, "On a Stick!" in their "Kookery" category. They also included Armendariz's recipe for Deep Fried Spaghetti on a Stick.
Was this necessary?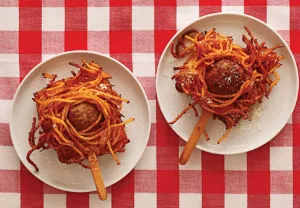 Sure, it looks delicious. But do we really need to cram a stick in every single food? Originally food on a stick was about necessity - being able to eat on the go without dealing with utensils and mess. Not some misguided idea that being impaled makes foods tastier.
Deep Friend Spaghetti on a Stick, which might be tasty, looks like a portability nightmare. It should not be on a stick.
What other foods shouldn't be on sticks? And which ones are strokes of brilliance?
Hot dogs are already portable, whether in a bun or corn dog form. So are fries. But eating both at the same time? Awkward. This French fry-breaded wiener gets a sticks up. Which means we like it.
Much like trendy cake pops these teeny pies are totally necessary. Sure, you can have a cake ball or a tiny pie without a stick, but your hands will get all messy. And who wants to get messy while eating something so cute? Two sticks up!
Jimmy Dean's Pancakes and Sausage on a Stick
This isn't as bad as it sounds; nutritionally, it's not that different from a regular corn dog. But with chocolate chips. And for breakfast.
Okay, it's bad. But it's not apocalypse-bad. And this vegan makes a good point about some of the hypocrisy in the attitudes about gross frozen processed foods in a "leave Britney alone" way. One stick up for not being much worse than a corn dog. One down for being a frozen breakfast corn dog. Waffles
Waffles are already portable; you can bust them up along their perforation. But what's the point when syrup isn't portable? Sticks down on the French waffle sticks.
Deep Fried Cheddar-Bacon Mashed Potatoes
This is already a thing. Potato croquettes have existed without sticks for over a century. While not normally considered a finger food, it's easy enough to throw them in a little paper to-go cup. Sticks down.
What the hell? This North Carolina descendent of scrapple is made from leftover hog parts mixed with flour, boiled, and formed into loaves. It's sliced and fried, rarely on a stick except at the Livermush Festival in Drexel, North Carolina. Considering only a handful of livermush makers remain, turning the meat product into fair food might be its key to survival. Sticks up for keeping the livermush dream alive. Pizza
Can you eat regular pizza while walking around? Yes? Then making it on a stick is a ridiculous waste of time. Sticks way down.
Pork chops have a stick. It's called a bone. Target Field in Minneapolis serves a boneless pork chop on a stick, which seems like a lot of extra work. Also? The bone will give you a better grip, making your chop less susceptible to theft by drunk.