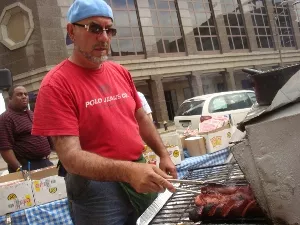 The sign affixed to the trash can on the corner of Broadway and Olive says "St. Louis Best 10" Beef Polish Sausage" with an arrow pointing west. Anyone who follows the directions will soon smell the waft of BBQ-tinged smoke and hear the sounds of Fresh 102.5 blaring from a set of speakers on the corner of Olive and 6th Street.
Carlos Pereira, whose street cart has anchored this spot for the last seven years, doesn't have the typical American-smokehouse BBQ background. He was born in Portugal, lived in Africa for 23 years, then Canada for 20 more. But after earning his stripes as a fine-dining chef in the latter country, he came to St. Louis armed with the tools to man a BBQ grill. Today, a line of construction workers, convention types and government workers wait patiently for his freshly made hot dogs, sausages and brats.
"My food is the best in the city of St. Louis!" chirps the 58-year-old Illinois resident with a large set of tongs in hand. "I'm famous! Look at this line. Everybody comes to see me because I know what the hell I'm doing."
At his stand, called "Carlos' Hot Dogs, customers can buy a sandwich, chips and soda for $6. "His polish sausage is the best I've ever had," concedes John Rueve, who works at nearby AT&T and has been coming here for seven years. "And his personality is engaging."
"Everybody comes to interview me, even Global TV!" declares the chef, who's aided by an assistant bagger. "The Hollywood guys want me to come to LA to make a movie with Bruce Willis! One time a customer ordered three polish sausages and wrapped them up to take them back to Miami!"
After grilling the meat, Pereira slathers them with a special sauce, then coats them with another concoction from a spray gun -- both secret recipes made by his mother, he says.
His cart is open weekdays from 10 a.m. to 2 p.m., weather permitting. Over the years, he's witnessed a lot of business shutter and is waiting for companies to move back downtown. "Look at these buildings, they're great," he says. "But so many of them have become empty. Just look at Macy's"
Pereira says he makes barely enough to scrape by, but loves what he's doing because of the music, the people, the liberty. "It's beautiful!" he says.