Gut Check loves us some wine. We want a bottle with bang and a bang for our buck, so every week we will visit a local wine shop, where an expert will recommend a good-value wine priced under $15. We'll drink some and tell you wether we want to continue -- because the only time Gut Check has our nose in the air is while we're draining our glass.
Katie Moulton
Kata Lozina serves South County wine lovers.
Where does South County fit into the world of St. Louis wine sellers? Its entirety may fit into Kaya's Import Wine & Spirits (4117 Union Road; 314-894-0007), tucked into a plaza across from the South County Center shopping mall.
Kata Lozina has built a following for her wine shop based on open-minded community, rather than big names. So when Gut Check visited Kaya's (so-called for Lozina's nickname), she served us a wine based on the same principle: "It's not about place, it's about passion."
So says the label on a bottle of 2008 Alias California Cabernet Sauvignon, which Lozina insists we taste before revealing any information about its origins.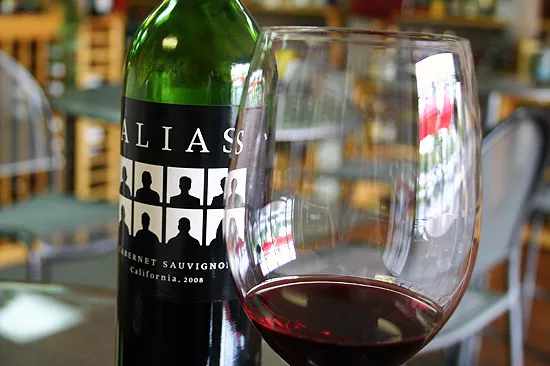 Katie Moulton
Alias Cabernet Sauvignon: the wine world's Clark Kent, only cooler.
The wine has a dark-red jewel tone, and when we stick our nose in the glass, we pick up tannins, spice and just a hint of not-so-forward fruit. (We're getting better at this, right?) When we taste, the fruit is surprisingly forward based on the nose, moving quickly to a light acidity. At first, we thought it was too much acidity and needed more balance, but with each following sip, the finish becomes softer, tastier and more interesting.
Lozina then shared the shelf talker, which says the Cab Sauv "presents darker berries on the nose, but the flavors are surprisingly bright with blueberries, ripe strawberries, and subtle spice." We can't cop to specific berries, but this description sounds spot-on to what we tasted.
The shelf talker goes on to discuss a "toasted oak character sits in the background" - and since Gut Check has no idea as to how one might toast an oak, we leave Baby in the corner and move on.
Lozina offers her own tasting notes, mentioning how "well-balanced" and "structured" the wine is, though "you don't have to really think about it." She also clued us in that wines intended to be served at "room temperature" actually means "cellar temperature," so she adheres to the 15-minute rule of popping reds in the refrigerator before pouring, and taking whites out.
"So," Lozina asks us, "how much do you think this bottle costs?"
Based on its drinkability and layers, as well as its cute label - we guess $13.99.
"That's what I thought too," Lozina says, triumphant, and writes down her price-- $7.99.
So how is this possible? Is Lozina some kind of warrior price-slasher?
Actually, the low price comes from how - and why - this new-to-market wine was made. The label features eight silhouettes, which Lozina explains are the "Cult of 8" winemakers who joined forces to create this wine together - but anonymously. Without listing names, faces or estates -- just the region, Napa -- the winemakers instead detail their philosophy on the label, including "Vineyards make grapes, winemakers make wine," "Wine is not art, wine is craft," and "Luxury can be affordable."
We wondered how eight opinionated winemakers collaborate on one product - are all eight swilling and spitting in the same room? The Synergy Wines website describes how in 2008, "in crisis," the winemakers were able to secure "contracts with several quality vineyards and wineries at prices deemed unimaginable a few years ago."
Lozina takes a softer tack in explain how a wine collaboration might work: "Winemakers get bored with the typical. My understanding is that this was a group of friends who said, 'Let's get together and see what we can do.'"
Lozina, born in Bosnia of Croatian descent, grew up in South County, and when she returned to St. Louis after living in Florida, she knew she wanted to base her business in the underserved community she was familiar with. In addition to hundreds of wine selections, Lozina specializes in wine and liquor from Eastern Europe. Bilingual Lozina doesn't always have firsthand knowledge of the products requested by her eastern European customers, but says she tries to carry the unusual, hard-to-find products and replenishes her selections every week.
"When people walk in here, I want them to immediately feel comfortable and not intimidated," Lozina says. "If you don't know jack about wine, I'm not going to try to impress you with how much I know. It's very simply about what's in the glass, and do you like it?"
Now open for nine years, an enthusiastic community has sprung up around her shop, with regulars who frequent her free Friday night wine tastings. One group, who met and became friends through the shop, call themselves Kaya's Konnection, and together with Lozina, have raised more than $30,000 for Friends of Kids with Cancer. Talk about a few friends getting together to see what they can do.
Gut Check's take? Straight up: we really like this wine, and we really like this shop. It's a fantastic value and may even be worth that long drive down I-55.
Kaya's hosts free wine and liqueur tastings every Friday, 6-8 p.m.
Katie Moulton
Kaya's Import Wine & Spirits across from South County Center.