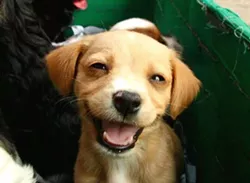 Bring your pooch to Yappy Hour at the Bleeding Deacon this Sunday!
Friday, May 13:
Grand opening week @ I Scream Cakes During Cherokee Street's Cinco de Mayo celebration last Saturday, a new kid on the block opened its doors for the first time. I Scream Cakes debuted its custard style "Iscreams" and farm fresh sorbets made with with organic agave syrup to a slew of happy patrons escaping from Springtime heat. Try flavor combinations like cherry almond sorbet with chocolate iscream on yellow cake. Open Tuesday through Friday from 3 to 8 p.m. and Saturday from 12 to 8 p.m.
Wine Flights and Small Plates @ The Wine Chateau The Wine Chateau's relatively new wine bar kicked off with this weekly special last month. This weekend, featured wines come from all over the world including Portugal, Santa Barbara, France and Italy, all accompanied by live acoustic stylings from musician Dan Hoerle. Hank's Cheesecakes small plate specials will also be available. 5:30 to 9 p.m.
Dinners on the Deck @ Mount Pleasant Estates Get a glimpse of the Missouri River Valley while enjoying dinner from Mount Pleasant's Appellation Café Deck. Executive chef Dana Liljequest prepares a prix fixe three-course meal with a glass of wine specially chosen by Mount Pleasant's winemaker to coincide the evening's entree. Call 636-482-WINE(9463) to make reservations. $23.99, plus tax and gratuity.
Saturday, May 14:
KDHX All-You-Can-Eat Breakfast Buffet @ Black Bear Bakery If you missed out on KDHX's spring pledge drive and Midwest Mayhem this season, it's not too late to donate! A percentage of proceeds from this monthly brunch benefit go to support everyone's favorite community radio station. Stock up on a variety of vegetarian and vegan breakfast delights such as pancakes and french toast to start your day. Catch live music by Wack-A-Doo. 10 a.m. to 2 p.m. $10 or $12 with a bottomless cup of coffee.
Share Our Strength's National Food Blogger Bake Sale @ Sappington Farmers' Market Get some grocery shopping done and sate that sweet tooth for a good cause all at once. Now, that's multitasking! The market donates a portion of the day's proceeds to Share Our Strength, an organization which strives to end childhood hunger. Local food bloggers including Stefani Pollack of Cupcake Project and Kimberly of Rhubarb and Honey host a tasty bake sale, donating 100% of the proceeds to charity. 10 a.m. to 2 p.m.
Strawberry Festival @ Eckert's Farms It's strawberry season! "Pick-your-own-strawberries" for $2.49 a pound returned as a result of no more rain and tons more sun to Eckert's Farms this week. The comeback of the beloved red fruit culminates with an all-American style outdoor festival chock full of good eats, country music, carnival rides, ponies and more. May 14, 15, 21 and 22, 9 a.m. to 5 p.m.
Third Annual Macklind Days Festival @ Southampton neighborhood Check out this bumpin' neighborhood block party between Devonshire and Nottingham Streets for special treats including those of the watermelon and pie varieties. A baking contest, hosted by Metromix, determines the best pie for Springtime. Additionally, live music and food from featured neighborhood restaurants like The Mack Bar and Grill, Murdoch Perk, Onesto Pizza and Trattoria, fill the streets with plenty of flavor and sound to go around. 11 a.m. to 8 p.m. Free.
Crawfish Boil @ Highway 61 Roadhouse Aching for flavors from the South? Some special shellfish guests get flown in direct from Louisiana for feasting on by the pound. Shrimp will also be on hand for the faint of heart in addition to beer, hurricane and Absolut voodoo tea specials all day. The Louisiana lunch all gets enjoyed to with the soundtrack of live music from the Zydeco Crawdaddys. 1 to 6 p.m.
Sunday, May 15:
Sip and Savor Sundays @ Bissinger's Tired of whining all week? Translate whining into wining and therefore winning this weekend out on Bissinger's patio in the Central West End. Enjoy complimentary wine tastings and specials on select bottles of wine all day, and be sure to grab some signature caramel lollipops and gourmet chocolate treats to supplement that sublime Sunday satisfaction. Every Sunday, 2 to 4 p.m.
Yappy Hour @ The Bleeding Deacon Public House Another patio opportunity arises at this south city hotspot -- this time, it's for you and your pooch. Bring your pup out to the Bleeding Deacon patio to enjoy some sun while you have fun with a variety of drink specials, new bottled beers and some old favorites on draft. Every Sunday, 4 to 7 p.m.