This is part one of Katie Moulton's Chef's Choice profile of chef Nate Hereford of Niche in Benton Park. Part two, a Q&A with Hereford, is here. Part three, a recipe from Hereford, can be found here.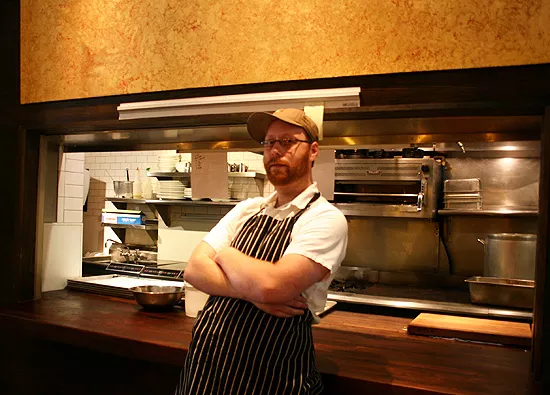 Katie Moulton
Nate Hereford of Niche "balances efficiency and beautiful food." Whatchu wanna say about it?
"One cool thing about cooking," Nate Hereford, chef de cuisine of Niche, says, "is that you're at the whim of nature."
Hereford may have been talking seasonal ingredients, but Gut Check wants to talk evolution: how did this East Coast anthropology graduate end up chef at the most-talked-about restaurant in our Midwestern river city? Perhaps we should examine Hereford's progression from the anthropological standpoint: as a movement among cultures, defined by occupation, geography and social relationships. In short, a young man fell in love with a woman - and kitchen work.
Katie Moulton
Niche in Benton Park.
Hereford grew up in oceanside Beverly, Massachusetts and went to college in the snowy mountains of the University of Vermont. After graduation, young Hereford moved to Montana, where he worked in a restaurant and met his future wife, a native of Kirkwood, Missouri. "I dug the vibe in the kitchen. It just felt right," he says.
This led to culinary school in Portland, Oregon, then varied restaurant gigs in Chicago, experiencing French fusion at Bonsoirée and a "bistronomic" concept at Graham Elliot. "I also worked in Moto, where we did a lot of avant-garde," he says. "We used a lot of liquid nitrogen, created food that messed with your head, like dessert that looked like nachos."
It was in Chicago that Hereford first heard buzz of Niche. "When we visited St. Louis, I could never get in. But I knew there was something going on here," he says.
So when the couple moved to St. Louis, Hereford knew where he wanted to work. Niche was the only place he applied -- and he got the job, starting in October 2009. "Gerard [Craft] is all about pushing yourself," he says. "It's about achieving a balance of efficiency and putting out beautiful food."
He doesn't plan on leaving any time soon. "I've had my time in Chicago," he says. "I'm more of a small-town guy."
Now entrenched in St. Louis food culture, Hereford offers an analysis of the local scene: "St. Louis is so centrally located, it's unique. I had never heard of toasted ravioli or Provel before. It's interesting that some things stay here, unknown to the outside, but the city still takes in inspiration from all over."
As for the future, Hereford continues, "I think St. Louis - what it's about - is gaining notice elsewhere: the heartland, its farmers. This is a a meat-and-potatoes city, but this is a meat-and-potatoes country. St. Louis is really a microcosm of the country."
Hereford's understanding of his adopted home is matched by his absorption with culinary culture. "I used to host a radio show, and I played the banjo," he says. "I don't get as much time to play the banjo now since I'm always cooking. But I stumbled into cooking, and now I can't imagine what else I would do."
What does Hereford do when he's not cooking? "Think about food," he says.
Total immersion.