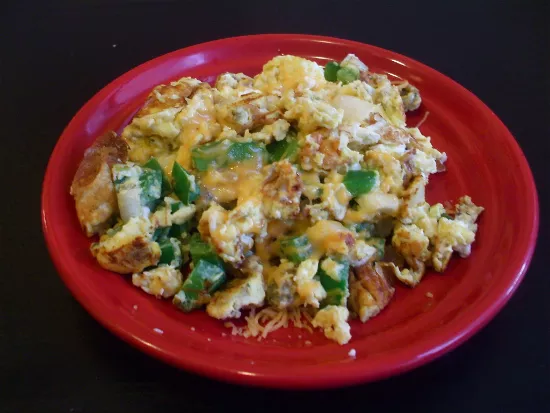 No disrespect to falafel, but we were more than excited when we woke up this morning and realized today was the last day of our chick pea diet. We whipped up a quick breakfast scramble of peppers, onions, falafel, and tons of cheddar cheese, substituing Greek yogurt for milk to give the scrambled eggs creaminess and a bite.
At lunch we introduced falafel to yet another favorite cultural dish: spaghetti and "meatballs." The basil and oregano of the marinara sauce didn't exactly compliment the strong spices of the falafel, but between the sauce and the falafel there was aperfect amount of garlic (although those we talked to after lunch may have disagreed). It was enough to meld the other flavors together.
For our final meal we decided to once again trust the professionals and went to St. Louis Coffee Oasis and Mediterranean Cafe. Impressively, the entire restaurant is run by one man that acts as server, host, bartender and cook. The falafel plate we ordered was ready and at our table before we could say Mata Hari. While the presentation and falafel weren't as impressive as Ranoush, the place definitely has character. The atmosphere of the café is laid back -- the perfect place to eat an exotic meal by yourself.
But alas, paying our bill at the end of the meal was bittersweet -- it meant our falafel saga had come to a close. We've found some ways to highlight (or hide) it as a meat substitute in our everyday cuisine. Our pizza and burger meals were undeniably healthier than their traditional counterparts, but still fulfilled our cravings. After making our own baked falafel and trying it at a few restaurants, we know falafel doesn't have to be a dry crumbling mess when served in customary ways. It might be a while before we have a hankering for falafel, but taste buds and tummies agree this was a culinary week well spent.