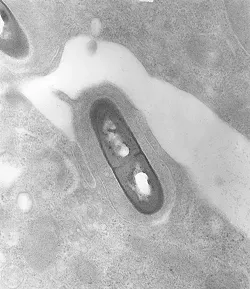 Listeria monocytogenes: Goes well with honey ham, yellow American.
Do you enjoy cold cuts, in sandwich form or, perhaps, eaten directly from the wrapped deli package while standing in front of the fridge 'round midnight? Are you over the age of 50?
THEN PUT THOSE COLD CUTS DOWN, MY FRIEND.
Or, rather, put those cold cuts in the microwave.
The CDC recently reiterated a recommendation that those over the age of 50 should (and those over the age of 65
really
should)
heat cold cuts to 165 degrees to eliminate the possibility of food poisoning
, reports
USA Today
:
The recommendation is because of a food-borne bug by the name of listeria monocytogenes which causes an uncommon but potentially fatal disease called listeriosis. About 85% of cases are linked to cold cuts or deli meats, says Mike Doyle, a professor of food microbiology at the University of Georgia.

And based on FSIS risk-assessment data, meats sliced at the store pose a greater risk than meats pre-sliced at federally inspected establishments, [Neil Gaffney, spokesman for the U.S. Department of Agriculture's Food Safety Inspection Service] says.

Frankly, we're too lazy to heat our cold cuts unless we really, really want a hot sandwich. Then again, Gut Check doesn't fall into the at-risk demographic. What about you? Would you heat up your cold cuts just because some government scaremonger tells you to do so? Take our poll!
(h/t: NPR, via Gawker)