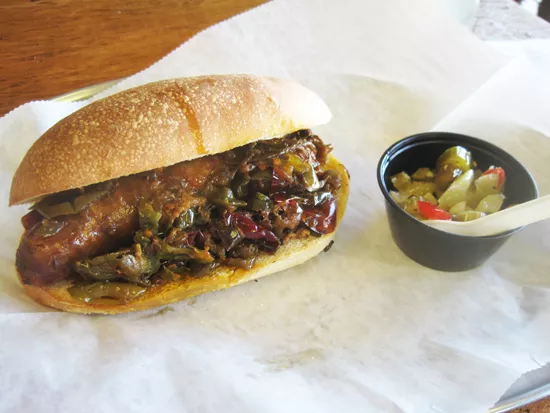 Ian Froeb
"The Beast in a Box" at Salume Beddu
Salume Beddu (3467 Hampton Avenue; 314-353-3100), already much loved among local gastronauts for its artisan salumi, last month introduced a lunch menu. Thanks to Salume Beddu's existing fan base, this menu has already generated a great deal of buzz. And one item in particular seems to be drawing the loudest raves, a sandwich called "The Beast in a Box" ($8.50).

The Beast is a link of Salume Beddu's salsiccia (the Fiama variety, I think ). It's a beautifully spiced piece of sausage, peppery, with a definite fennel note. This is served with peperonata (cooked peppers, basically) and wonderfully pungent giardiniera inside an excellent bread roll, nicely crusty on the outside, with a good chew.

This is, without doubt, one of the most flavorful sandwiches I've ever eaten -- spicy, piquant, porky. It's also one of the most satisfying: It's served without a side dish but, trust me, you won' t need one.