What the hell is wrong with people these days? Stories of violence and fights in restaurants have splattered the news like so many teeth being knocked out of some dude who was just waiting for his hot syrup.
Last Friday a New York City security guard was stabbed when he tried to stop a fight at a McDonald's. This came two weeks after a transgendered woman was beaten in a Baltimore area McDonald's by two patrons while an employee recorded the attack.
It's not just McDonald's that's attracting people in need of anger management. This weekend three people were arrested for a shooting outside an Oklahoma IHOP. A week earlier an off-duty Atlanta cop punched an IHOP customer in the face after she drunkenly yelled and threw a punch at him.
Having never been involved in a restaurant scuffle ourselves, Gut Check wonders, which venue is better for fighting, IHOP or McDonald's. We investigated without throwing a single punch.
International House of Pancakes, Chesterfield
Robin Wheeler
No room to throw a punch.
The weekend brunch crowd, filled with families and children, lacks fighting types. The toughs go to Denny's. There's so many people that there's not much brawling space, but the entrance does sport an open area with spectator seating. Sure, management will tell you that the seats are for people waiting to be seated. Whatever. The area's also lacking the softening of carpet found in the dining area. But it also means no rug burn.
Robin Wheeler
Tile = good fightin' turf.
IHOP offers a good choice of weapons, what with their real china plates, real cutlery, chairs and tables that aren't bolted to the floor, hot carafes of coffee given to just anyone, and the potential for the satisfying wallop of a syrup jar whacking someone upside the head, its contents rendering the victim unable to move and at risk for biting fly attacks.
Robin Wheeler
Four syrup death punch.
If you're going to fight at IHOP, you should opt against eating their food. Do you think you can spar after eating this?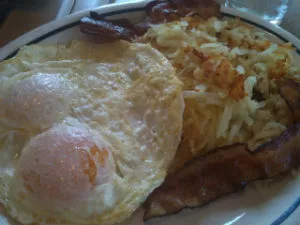 And chased with these?
You're not going to be fighting if you eat that pile. If you do fight, there's a good chance your opponent's going straight for the gut punch, which will rupture your intestines and kill you with septicemia.
During our visit, we inadvertently learned just how fast an ambulance can get to the Chesterfield IHOP. An elderly customer fell in the parking lot, hitting her head on the curb. Response from the 911 operator was less than satisfactory; she snapped, "You're standing in front of the building. The address is right there," even though Gut Check was not standing in front of the restaurant when making the call. Luckily, we weren't the first to call 911 about the incident, but despite being a well-populated, busy area, it took almost 10 minutes for help to arrive. We hope the victim is recovering, and will use her experience to think twice about fighting at this IHOP location. McDonald's, somewhere in central Missouri We chose a small McDonald's without a Playplace. The McDonald's Playplace is Thunderdome, giving the chain an unfair advantage.
Only a few tables were taken at a rural McDonald's during our visit, but the presence of Fox News on several dining room TVs might be enough to inspire the few families and elderly people to punch urban interlopers.
There's lots of room to not only have a one-on-one fistfight, but for a full-on brawl, with lots of perpetually slippery floor tiles to aid in skull smashing.
Need weapons? You're not going to find them at McDonald's, unless you're particularly skilled with poking a moving target in the eye with an extra-wide drinking straw, or fashioning throwing stars from cardboard burger boxes. The wet floor signs might work in a pinch. Don't count on any table or chair-throwing, though. Most of them are bolted.
It's possible to eat enough at McDonald's to equal the IHOP killer meal, but we didn't. Instead we had the Southern Chicken Extra Value Meal.
It's perfect fight food, especially when paired with a sugared, caffeinated beverage. Not too much, but loaded with enough refined carbs to give you the fast energy burst you need when pure fight adrenaline isn't enough. The sandwich's blatant rip-off of Chik-Fil-A is good fuel for rage.
No one was injured during our McDonald's visit, but we overheard a tough teen telling her family about how long it took an ambulance to arrive at a party where she'd beaten the crap out of someone. Since the party wasn't at McDonald's and because we were terrified the girl would kill us with a straw if she caught us eavesdropping, we tuned out. And left quickly.
The Verdict IHOP's too crowded and filled with decent people. Take your violence to McDonald's for a spacious round of hand-to-hand with 20 of your enemies. Just make sure you note which chairs aren't bolted, and for God's sake don't pick a fight with Ambulance Girl. She will fuck you up.