This morning we woke up with an insane carb craving, which of course posed a slight problem in regards to our falafel mission. Falafel pancakes? Falafel breakfast sandwich? Peanut butter toast with falafel? We're not going to lie, none of that sounded appealing. But for some reason something a lot stranger did sound good: falafel stuffed French Toast. So we mixed up some Greek yogurt, honey, figs and falafel, then careful sliced a hole in a brioce role and stuffed it in side. After adding some syrup and cinnamon sugar to the final product we had a shockingly amazing breakfast. Using a less intensely spiced falafel probably helped, because there was just enough coriander and cumin to add a savory kick, but not fight the sweetness of the maple syrup and honey/fig filling.
For lunch we decided to see how the complex flavors of falafel could work within the constraints of simplicity and made a FLT: falafel, lettuce and tomato. We whipped up a Greek yogurt spread with ground mustard, lemon juice, parsley, and paprika, slathered it on a pita and then added the other ingredients. While the sandwich was undeniably yummy, the falafel couldn't replace the crisp bite of bacon. If we ever make this again, we'll have to rename it because calling it an "FLT" set our hopes up too high.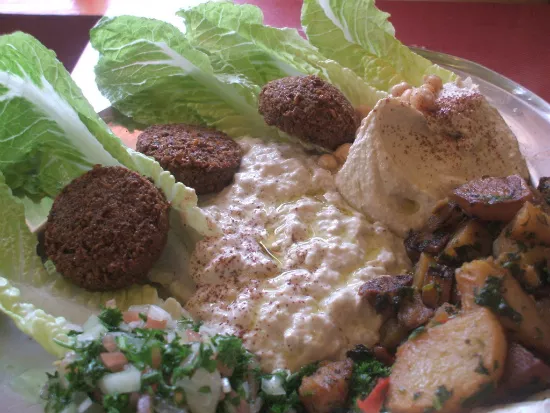 As crafty as we are in the kitchen, by dinner we were running out of ideas. We decided to check out a place known for its Middle Eastern cuisine, and especially its falafel, Ranoush. Quickly becoming a must-eat-at locale on the Loop, we were excited to try the real deal and see how our falafel compared. Sadly, pretty poorly; their falafel had an outstanding crispy fried shell and the most moist center we'd encountered yet. The kick-ass falafel was part of their vegetarian mezza for two which also included hummus, baba ganoush (a pureed eggplant dish), mutabal (grilled eggplant with garlic and peppers), tabbouleh (a parsely, tomato, and bulgur salad) and batata harra (spicy potatoes). The completely vegetarian meal was a spice party in our mouths and unbelievably filling.