Welcome to Girl Walks into a Bar, a weekly Gut Check feature that spotlights local bars and bartenders. This week Katie Moulton profiles the 34 Club's Sean Brennan. Below is a Q&A with Brennan, followed by his recipe for the ManSquirt.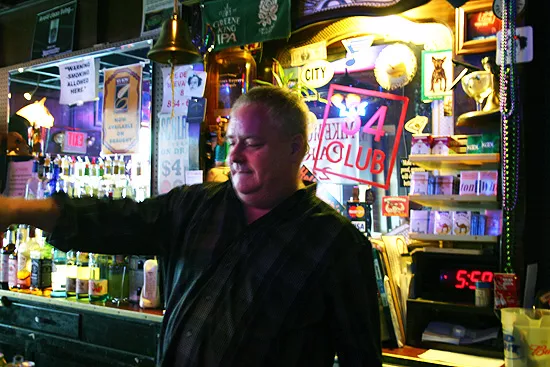 Katie Moulton
Sean Brennan of the 34 Club: service with a (wry) smile.
When Girl Walks into a Bar walks into the 34 Club (34 North Euclid Avenue; 314-367-6674) on a Tuesday in the early evening, every stool but one in the 70-year-old Central West End institution is ocupado. We have followed an intriguing e-mail to this smokers' dive behind the Chase Park Plaza, searching for the bartender who "couches his love for belly-up compatriots in a disturbing array of barely sarcastic responses."
Is this that man, now gruffly lamenting the small crowd as we climb aboard the sole available barstool? "I challenge you," the e-mail had gone on, "to find another local man [who] gets mad at you for ordering doubles because he already pours doubles as a matter of some ancient conscience."
Is this that man, now rolling his eyes and ribbing the sender of that e-mail, who happens to be perched upon the stool beside ours?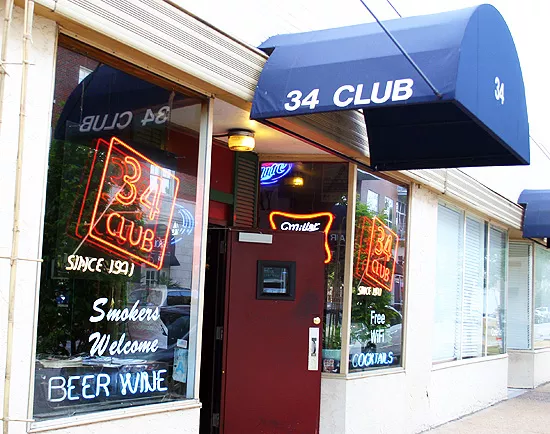 Yes, this is indeed Sean Brennan, who claims to be "just paying off my tab," when asked how long he's worked at the 34 Club. (Rumor has it he has been working here for the past three or four years and began drinking at the establishment long before that.) When asked how often he can be found behind the bar, Brennan replies, "Six days a week, but I don't want anyone to know I'm here."
Brennan is the (seemingly reluctant) ringleader of a bar full of regulars, who dares us to find a cheaper drink in the neighborhood, who gets embarrassed when we try to take his photo or get a straight answer, who says we're way too nice.
Members of his loyal cohort, however, are eager to chime in with their take on Brennan: as a man who cares about this community, whose presence harkens to an earlier, friendlier time. A man who recently dressed up in a full-body bunny suit for an unofficial parade honoring friend, philanthropist and fellow Central West End bartender Mike Mullen.
Settled into their weekday pours -- from the professor to the actor and benefit organizer to the Costa Rican who misses her dogs -- everyone in the 34 Club agrees: They come here for Sean.
Describe your bartending style in three words. Loud-mouthed buffoon. [A regular customer suggests "fire on the water" and "thunder in the hills."]
My bar is the only bar in St. Louis where... Well, the RFT called it the "Best Bar Bar." It's a traditional bar, but we get all kinds. Except if they're mean. We don't let in mean people. Also, the jukebox has more than 900,000 songs. There's always unique, great music playing. And smoking's allowed. [Adds a regular: "You'll not rub a wider variety of shoulders anywhere else."]
Girl walks into a bar, orders a ____. She just earned my undying admiration. A beer, so I don't have to do anything.
Most dumbass or strange drink anyone has ever asked for. Anything with more than three ingredients! I ain't doing it -- especially if they don't know what's in it.
Other than your own bar, where do you go to get a good drink? And what do you have? Rosie's. It's our sister bar, so we know everybody there. Vodka and club soda and lime. But when I'm here, I've been using mineral water because I'm on a health kick. [Laughs]
If my friends and I simply must have a round of shots, what should they be? It's up to you, I wouldn't give you something you hate.
What's the most exciting or memorable event you've witnessed while tending bar? We've had motorcycles and horses come through here before, but that doesn't count. Our Halloween parties -- every holiday is something. This place throws some parties!
One thing most people don't know about bartending. One of the only jobs where I can say, "Fuck you!" to the customers -- and they come back.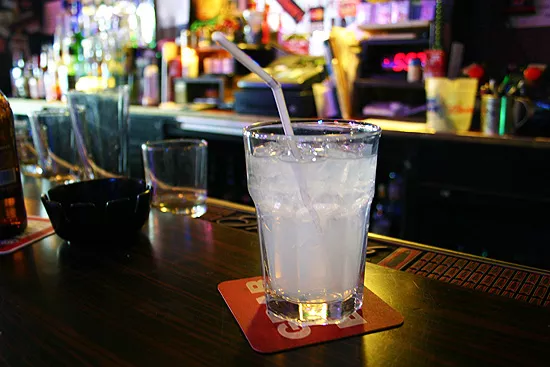 Katie Moulton
The ManSquirt. Don't question it.
The ManSquirt 1 part Absolut Mandrin vodka 1 part Squirt
When asked for precise quantities, Brennan replies, "half and half, depending how big the glass is. This is a medium."