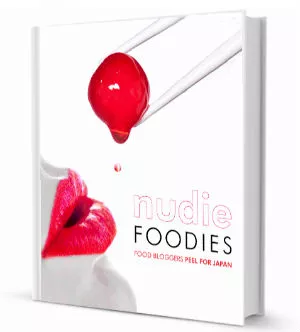 Food and sex keep colliding all over the place, often in the name of doing good.
The Loop had a couple of naked ladies promoting veganism for PETA yesterday.
Elsewhere, food bloggers are losing their clothes to aid Japan.
The Nudie Foodies are 18 "cover model-caliber food bloggers" who are stripping down and contributing recipes for a book whose proceeds will benefit organizations providing assistance to Japan's tsunami victims.
They haven't announced a release date for the book, but the Nudie Foodies have been doling out samples:
It wasn't so long ago that public displays of food and sex were the realm of fetishists.
Food and sex? That was for creepy weirdos like George Costanza.
Or depraved pervs like Mickey Rourke.
Rourke's character certainly was inspired by the Ohio Players. The French love butter. So did Marlon Brando in "Last Tango in Paris".
Even Japanese comedy takes a food fetish twist with raw eggs and fresh oysters in "Tampopo".
Katz's Deli was serving up something good to Meg Ryan in "When Harry Met Sally". We all want what Sally's having.