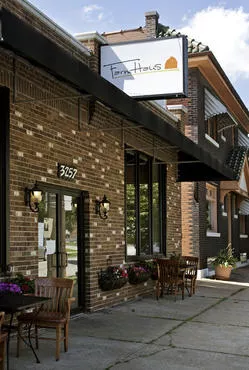 Farmhaus
(3257 Ivanhoe Avenue; 314-647-3800)
announced this morning that it is revising the schedule for its popular "Blue Plate" daily lunch special. The upshot: The restaurant is dropping tacos from the rotation and ending the Friday lunch altogether.
The new schedule features meatloaf on Monday, roast beef on Tuesday, fried chicken on Wednesday and fried fish on Thursday.
(For those of you who haven't tried the "Blue Plate" lunch yet, you receive the dish of the day, with salad and iced tea, for $10.)
Farmhaus manager, bartender and social-media kingpin
Eric Scholle
tells Gut Check that the Friday lunch was interfering with the prep work necessary for the restaurant's very busy dinner services:
"Instead of compromising quality and standards," he says, "we're going to drop lunch on Friday."
As for dropping the (awesome) tacos from the rotation, Scholle explains it as a tribute to cook
Antonio Pacheco
, who was the "driving force" behind the dish and is leaving the restaurant to pursue his career as an architect.
Scholle adds that the new Monday-Thursday schedule will allow those who couldn't visit the restaurant on a specific day an opportunity to try the dish that they'd been missing.
(For those who wonder why Farmhaus has gained so many fans, it's not just the terrific food, it's also thoughtful little nods like this to its regulars.)
Besides being a great meal for a great price, the "Blue Plate" lunches, which are promoted almost entirely via Twitter, are a terrific example of how a restaurant can use social media to drive business.
Speaking of a recent first-come, first-served taco dinner at Farmhaus, again promoted through social media, Scholle says, "I totally learned the power of Twitter. We had a fifteen-person line out the door [and were] completely understaffed."