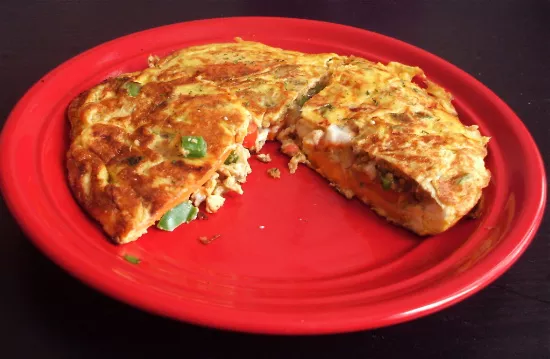 Here at Gut Check, we are firm believers in a good Saturday morning sleep-in. There's nothing better than lounging about in bed, doing absolutely nothing productive until the tummy starts a-rumbling. Then, it's brunch time.
This lazy mid-morning we made a frittata, first pan frying some sliced sweet potatoes and onions, then layering on top some cherry tomatoes, onions, peppers, garlic, and of course, falafel. Finally we beat some eggs with Greek yogurt, to ensure creaminess, and then poured it over the frittata foundation. A few flips later, we had a fully-loaded dish that mixed soft, creamy and crisp textures, leaving us filled up until suppertime.
Maybe it was all of the accompanying ingredients, but breakfast definitely did not highlight the falafel. Wanting more falafel-ness, but still a little tired of more traditional preparations and presentations, we decided to see how it held up as part of more American dishes.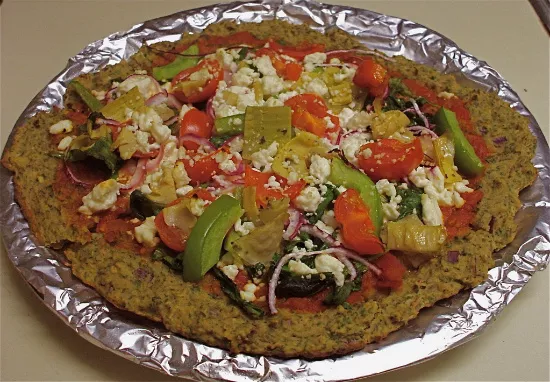 First up, our favorite Saturday night dinner: pizza. Using a recipe for baked vegan falafel, (although we did add an egg to help keep everything together) we made our crust and baked it for about 15-20 minutes, ensuring optimal crispiness. Then came the toppings: sauce, sautéed spinach, feta cheese, artichoke hearts, tomatoes, onions and peppers. After about 10 more minutes of baking, the pizza was out of the oven and in our mouths. It turned out to be a great replacement for the super-carby traditional pizza crusts that lack as much fiber and protein. Unfortunately however, the falafel crust was less structurally sound under the weight of multiple toppings.
Stay tuned tomorrow for more falafel frenzy.